Trump administration officials last year ignored an internal report that found refugees do not pose a national security risk, former senior officials told NBC News. Officials within the administration then released their own report, which NBC's sources say exaggerated and misrepresented the claims against refugees.

At a meeting with senior officials in September 2017, the National Counterterrorism Center presented the report analyzing the potential security threat of refugees. "We read that. The Attorney General doesn't agree with the conclusions of that report," Associate Attorney General Rachel Brand allegedly said before the presentation even began.
From NBC:
Brand's blunt veto of the intelligence assessment shocked career civil servants at the interagency meeting, which seemed to expose a bid to supplant facts and expertise with an ideological agenda. Her response also amounted to a rejection of her own department's view, as the FBI, part of the Justice Department, had contributed to the assessment.

"She just dismissed them," said the former official who attended the meeting.

The intelligence assessment was "inappropriately discredited as a result of that exchange," said the ex-official. The episode made clear that "you weren't able to have an honest conversation about the risk."
G/O Media may get a commission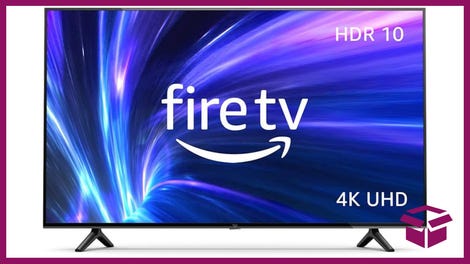 42% Off
Amazon Fire TV 50" 4K Smart TV
A current Department of Homeland Security official told NBC that the administration does not rely on only "historical data about terrorism trends." Instead, they use an "all-of-the-above approach that looks at every single pathway that we think it is possible for a terrorist to come into the United States."
"If we only look at what terrorists have done in the past, we will never be able to prevent future attacks…We cannot let dangerous individuals slip through the cracks and exploit our refugee program, which is why we have implemented security enhancements that would prevent such violent individuals from reaching our shores, while still upholding our humanitarian ideals," the official said.
Last year, the administration succeeded in lowering the number of refugee admissions to no more than 45,000 per year. In their explanation, they cited a lack of DHS personnel, not security threats. Later, however, a statement from President Trump suggested that security concerns were the reason for the new restrictions. "President Donald J. Trump is taking the responsible approach to promote the safety of the American people," the statement said.
In January, DHS released a counter-report that argued that most terrorists are foreign born, and therefore refugees are a threat. Now, that report is being challenged in court.
From NBC:
Two lawsuits filed in Massachusetts and California allege the report improperly excludes incidents committed by domestic terrorists, like white supremacists, and wrongfully includes a significant number of naturalized U.S. citizens and foreigners who committed crimes overseas and were brought to the United States for the purpose of standing trial.
"The result is a report that presents an inaccurate picture of the threat of terrorism in the United States," Mary McCord, former assistant attorney general in the Justice Department told NBC.
According to the UN Refugee Agency, there are currently 68.5 million forcibly displaced people around the world, most of whom are currently living in developing countries. In 2017, 16.2 million people were newly displaced. The U.S. has done little to help: since last September, only 20,000 refugees have been resettled here.
As the deadline approaches to set the ceiling for refugee resettlement next year, anti-immigration officials like Stephen Miller are pushing to lower the number even further. But according to former officials, there's no evidence that would make the country safer. Barbara Strack, the former chief of Refugee Affairs at USCIS, said she never saw evidence that refugees were a significant threat.
"I did not see evidence that refugees presented an elevated national security risk compared to other categories of travelers to the United States," she told NBC.