On Monday, the administration completely blew its deadline on reuniting parents with their toddlers that the government unnecessarily ripped away from them at the border. Luckily for the administration, the federal judge who gave the order has given them an extension.
On June 27, U.S. District Court Judge for the Southern District of California Dana Sabraw ordered an injunction to stop the Trump administration from separating families at the border. He also ordered the government to reunite all children under five with their families within 14 days of the order—that was today—and those children over five within 30 days of the order. That deadline is July 26.
On Sunday night, the ACLU said that the Trump administration was on track to reunite less than half of the 102 migrant kids under five with their parents. That claim was pretty close to the mark; according to NBC News, Justice Department attorney Sarah Fabian reportedly told Sabraw today that the government expected that just 54 of the 102 will be reunited with their parents by tomorrow. (You may remember Fabian from last week, when she argued that she couldn't give an update on reunification efforts because she was dogsitting.)
Part of the reason the Trump administration fucked up the deadline was because it reportedly didn't even try to keep detailed records so they could match parents with their kids in the future, as the New York Times reported last week:

The family separations, part of an aggressive effort by the Trump administration to deter illegal immigration, have produced a chaotic scramble as officials now face political and judicial pressure to reunite families.
Records linking children to their parents have disappeared, and in some cases have been destroyed, according to two officials of the Department of Homeland Security, leaving the authorities struggling to identify connections between family members.

The effort is complicated by the fact that two federal agencies are involved in detaining and sheltering migrants, and they did not initially share records with each other. On Friday, the leadership of the Department of Health and Human Services, which shelters the children and must now undertake reunifications, sent out a plea to federal public health workers for help with an exhaustive manual search of records.
G/O Media may get a commission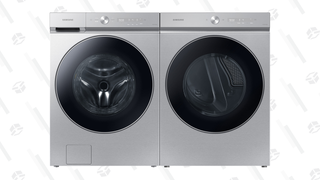 Get $500 back in credit
Last Chance: Samsung Bespoke AI Washer and Dryer Preorder
(Health and Human Services spokesman Kate Waldman called the claim that the Department of Homeland Security—not her department, to be clear—destroyed records "categorically false.")

On Friday, Sabraw denied the government's request for a blanket extension to reunite the families. Today, however, Sabraw did the government a solid and extended their deadline to reunite the kids, saying that he recognizes that some cases "will necessitate additional time."
The New York Daily News reported that Sabraw has not set a new deadline yet, but will bring Fabian and ACLU lawyer Lee Gelernt back in court on Tuesday morning for an update.

"The court is holding the Trump administration's feet to the fire to get these kids reunited with their parents. That's the most important thing," Gelernt said in a statement. "It's extremely disappointing the government will not be in full compliance with the court order, but the judge has stepped in to manage this mess of the administration's making."