U.S. Customs and Border Protection plans to release hundreds and possibly even thousands of migrant families from detention over the next several days, according to Vox, in an effort to put pressure on Immigration and Customs Enforcement to make more room to take in families.
These "wide-scale releases" could start as early as Thursday and are expected to last a few days, two officials with knowledge of the operation told Vox. The releases are reportedly part of a plan by CBP to make more room available in both ICE and CBP facilities.
There's evidence this is already happening. On Christmas, ICE bussed and dropped off an estimated 200 migrants at a downtown El Paso bus station "without warning." Local officials and charities said ICE didn't warn them about the influx of migrants, and criticized the agency for not giving them time to prepare for their arrival. In addition, ICE "mass released" immigrant families from detention centers in the fall, a move which advocates told Rewire was meant to drum up fear of immigrants ahead of the midterm elections.
Under current policy, CBP is supposed to transfer detained migrants to ICE with 72 hours of apprehension. In the past, however, CBP would hold migrants past the 72-hour limit until ICE was available to pick up detainees.
G/O Media may get a commission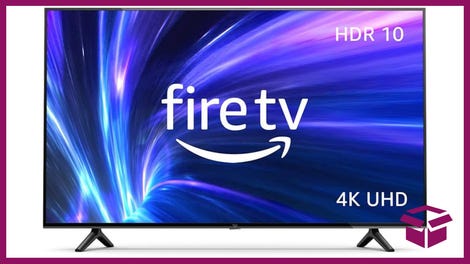 42% Off
Amazon Fire TV 50" 4K Smart TV
This new plan would change that. Instead of holding all families for ICE to pick up, CBP would release some families directly, while ICE has plans to make a majority of its releases in the Rio Grande Valley and El Paso area. Per Vox:
As described to Vox, the guidance instructs Border Patrol employees in a given sector to notify ICE that they've been holding a certain number of families for more than 72 hours and that it's going to get them out of its custody. Unless ICE has created enough room to pick up those families, the guidance instructs Border Patrol to call a local nonprofit and ask if they have capacity to take newly released families. If not, the families would be issued notices to appear in immigration court at a later date, and dropped off at transit centers like Greyhound bus stations.

It's not clear when the new Border Patrol process would go into effect, or whether it has been put on hold.

The scale of releases is expected to vary from sector to sector. In the Rio Grande Valley, more than 500 members of "family units" are expected to get released per day; in the El Paso sector, ICE is expected to release hundreds a day, and Border Patrol anticipated releasing up to 150 a day as well. Wide-scale releases from ICE and Border Patrol were also anticipated in the Yuma sector (covering western Arizona and the eastern edge of California), and ICE releases are set to happen in the San Diego sector (western California) as well.

Wide-scale releases are set to last only a few days, in the hopes that ICE will be able to start taking people in a timely fashion after that.
You would think that thousands of families being released from immigration custody would be a tremendous thing for people attempting to get on with their lives. However, CBP and ICE's solution for facility overcrowding has presented another problem within itself: The release of hundreds and thousands of families without resources, basic necessities, or even winter clothes. And according to Vox, local nonprofits—which are also overcrowded and under resourced—are already "stretched beyond capacity," and may not be able to take families in themselves.
With the mass-release plan possibly launching as early as today, however, it looks as though the Trump administration is once again preparing to let others clean up its colossal mess.
Splinter emailed the Department of Homeland Security to confirm that the policy would move forward. This is what we got back from DHS spokeswoman Katie Waldman:
We are living through an immigration crisis that is in part driven by a disastrous ruling by a district court judge in the Ninth Circuit that incentives illegal alien adults to put their children in the hands of smugglers and traffickers. The Flores Settlement Agreement has created an immigration loophole that rewards parents for bringing their children with them to the United States. Since 2015, we have seen a 169 percent increase in family units crossing the border. There has been a 110 percent increase in males traveling with children over the last two years. As long as activist judges continue to set national immigration policy they continue to put family units and innocent children in harm's way. Secretary Nielsen has repeatedly implored Congress to fund the border wall and close legal loopholes that incentivize smugglers and traffickers in order to protect vulnerable populations.
If you're wondering how this answers the question at all, so are we. We asked for clarification, and will update with any response we receive.