Welcome to WHAT NOW, a morning round-up of the news/fresh horrors that await you today.

Donald Trump Jr. was only doing what the "political pros" would do when he took a meeting with a Kremlin-linked lawyer who promised damaging information about Hillary Clinton during the campaign, his father said in an interview with Reuters.
"There was zero coordination. It's the dumbest thing I've ever heard," President Trump said in the interview, published online Wednesday evening, about whether his presidential campaign colluded with the Russians.
He also strongly disputed a flurry of reports that the revelations have cast an already fractured White House into further disarray, calling the whole Russian affair swirling around his son—which provides the strongest material evidence yet that the campaign was willing to accept material from the Russians to help win the election—a "hoax" by the Democrats.
"The White House is functioning beautifully despite the hoax made up by the Democrats," he said.
G/O Media may get a commission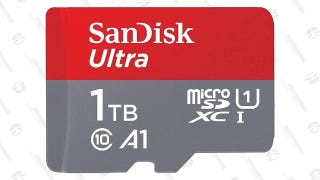 Save $70
SanDisk Ultra 1TB MicroSDXC Card
Another reason Trump offered for why the Russians couldn't possibly have intervened in the election to help his campaign: he asked Russian President Vladimir Putin when they met at the G20 summit last week, and he said "no."
"I said, 'Did you do it?' And he said, 'No, I did not. Absolutely not.' I then asked him a second time in a totally different way. He said absolutely not," Trump told Reuters.
Well there you have it.
WHAT ELSE?
Local troubadour Joe Scarborough and Mika Brzezinksi are getting married in Nantucket in the spring, he told the crowd at a Harvard Institute of Politics event in D.C. last night. No lie, this is the top item on today's Politico's Playbook, the most essential tip sheet in Washington.
Shia LaBeouf is "ashamed" about those videos of him being drunk and racist.
No one gave Kellyanne Conway the memo about not holding up white sheets of paper.
WHAT'S NEXT?

Republicans in the Senate are slated to unveil their (slightly) revised healthcare bill today. But early reports suggest the bulk of the desperately unpopular bill, which failed to win over both moderate Republicans and right-wingers like Ted Cruz, will arrive largely unchanged in its latest version.