President Donald Trump on Friday signed a memorandum demanding an end to the so–called "catch and release" policy of allowing undocumented immigrants to be released from custody while awaiting court rulings on their status, according to news reports.
The memorandum orders administration officials to report back to Trump about the actions they are taking to "expeditiously end 'catch and release' practices," The New York Times reported. The Departments of Homeland Security, Defense, Justice, and Health and Human Services have 45 days to respond to the president with descriptions of their actions to end the policy.

According to the Times, this includes asking what administrators have done to secure funding to build more detention centers near the border. Trump also asked Defense Secretary Jim Mattis for a list of military facilities that could be used to detain undocumented immigrants, Reuters reported.

Trump also wants to know how agencies are determining whether immigrants qualify for seeking asylum based on "credible fear" should they return to their home countries.

In announcing the new directive, White House press secretary Sarah Huckabee Sanders called "catch and release" a "dangerous practice whereby aliens who have violated our Nation's immigration laws are released into the United States shortly after their apprehension."

G/O Media may get a commission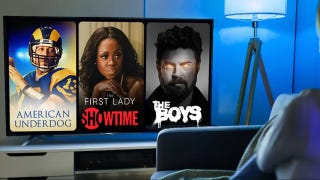 UNDER $1
99¢ Prime Video Channels
She added that "the President continues to call on congressional Democrats to cease their staunch opposition to border security and to stop blocking measures that are vital to the safety and security of the United States."

In addition to the memorandum, Trump this week also called for up to 4,000 National Guard troops to be sent to the U.S. border with Mexico. Following that request, Texas began mobilizing its National Guard members to the border on Friday.

On Saturday, Trump added to his press secretary's attacks on congressional Democrats by tweeting that they "have been a disaster" on the issue of immigration and border security.

"We are sealing up our Southern Border. The people of our great country want Safety and Security. The Dems have been a disaster on this very important issue!" Trump tweeted.

According to CNN, the U.S. currently has the capacity to detain about 40,000 immigrants at a time.