The people who handle Donald Trump, who according to NBC has spent 127 days at one of his golf clubs while president, have gone to great lengths to shield him from protesters and members of the U.S. news media while he skirts responsibilities and plays golf as the country he works for descends further into chaos.
But that hasn't been the case this weekend in Scotland, where protesters have made certain to let the U.S. president know he's not welcome, as he shamelessly promotes one of the Trump Organization's biggest recent investments, a failing golf club at Turnberry, in Ayrshire.

On Friday evening, shortly after Trump arrived, a Greenpeace paraglider flying a banner that read, "Trump: well below par #resist," managed to breach the airspace at Trump Turnberry, despite loads of security by U.S. and U.K. authorities. "How do you deliver a message to someone who doesn't want to listen?" Greenpeace UK later asked on Twitter. Apparently, you take big risks.

As Trump was playing golf on Saturday, dozens of protesters standing on a nearby beach booed and shouted at him, "No Trump, no K.K.K., no racist U.S.A." Trump waved, probably thinking they were his fans, before teeing off. According to The New York Times, while Trump was golfing, he was hidden from U.S. reporters traveling with him on the official visit, but not from British journalists. It's funny how that whole freedom of the press thing works.

G/O Media may get a commission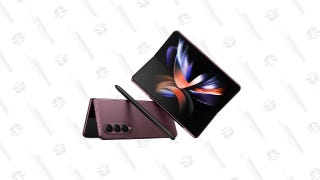 Save Up to $300
Galaxy Z Fold4
According to the BBC, about 9,000 protesters marched from the Scottish Parliament in Edinburgh to the Meadows for a "carnival of resistance." This followed the turnout of tens of thousands of protesters in London on Friday—and perhaps hundreds of thousands, according to organizers.

On Saturday, amid likely obstructing justice further in the Russia probe, attacking NATO allies, and claiming a "takedown" of CNN reporter Jim Acosta, Trump appeared to commit yet another emolument violation by promoting his own golf club on Twitter.

"I have arrived in Scotland and will be at Trump Turnberry for two days of meetings, calls and hopefully, some golf - my primary form of exercise! The weather is beautiful, and this place is incredible! Tomorrow I go to Helsinki for a Monday meeting with Vladimir Putin," Trump tweeted.

Trump needs to promote this golf club, because, as The New Yorker points out:

This property has not received the attention it deserves. It is, by far, the biggest investment the Trump Organization has made in years. It is so much bigger than his other recent projects that it would not be unreasonable to describe the Trump Organization as, at its core, a manager of a money-losing Scottish golf course that is kept afloat with funds from licensing fees and decades-old real-estate projects.
According to the report, Trump and his organization have spent about $260 million to purchase and renovate the property, yet the Turnberry "has been losing an astonishing amount of money, including twenty-three million dollars in 2016."

The New Yorker adds:

"The Trump Organization argued that these losses were the result of being closed for several months for repair. However, revenue for the months it was open were so low—about $1.5 million per month—that it is hard to understand how the property will ever become profitable, let alone so successful that it will pay back nearly three hundred million dollars in investment and losses.
There's always Putin.