The Trump administration announced on Tuesday that it had granted clemency to Dwight Hammond Jr. and his son, Steven—two convicted arsonists serving jail time for burning more than 100 acres of federal land.
Calling the pair "devoted family men" and "respected contributors to their local community," the White House claimed in its clemency statement that the Hammonds had been "imprisoned in connection with a fire that leaked onto a small portion of neighboring public grazing land."
In fact, the Hammonds were initially convicted in 2012 for setting fire to 139 acres in Oregon's Steens Mountain Cooperative Management and Protection Area. According to witnesses at their trial, the pair had allegedly set the fire to cover up the fact that they'd been illegally hunting on federal land. (They claimed it was to fight off an invasive species.)
"Dwight and Steven Hammond told one of their relatives to keep his mouth shut and that nobody needed to know about the fire," the Department of Justice said at the time.
The Hammonds were also accused of arson in what the DOJ deemed the "Krumbo Butte Fire," in which fires they'd deliberately set to limit a lightning strike blaze—against the orders of the the Bureau of Land Management—ended up spilling into the larger Malheur National Wildlife Refuge.
G/O Media may get a commission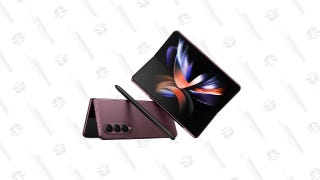 Save Up to $300
Galaxy Z Fold4
The pair were subsequently given light sentences, far below the federal mandatory minimum for arson. An appeals court then reversed the decision, and in 2015 the Hammonds were sentenced to five years in prison.
Perhaps more significant than the crimes the Hammonds committed themselves is their legacy among the far right wing. In 2016, the pair were cited as inspiration for the armed militia that illegally occupied the Malheur National Wildlife Refuge for a month and a half. Members of that group, including militia leaders Ammon and Ryan Bundy, were acquitted of charges stemming from their occupation in 2016.