Welcome to WHAT NOW, a morning round-up of the news/fresh horrors that await you today.

President Donald Trump, a man who's already proven himself acutely aware of the TV ratings opportunity presented by Hurricane Harvey, is heading to Texas this morning at 8:30 a.m. as the Coast Guard continues to receive a staggering 1,000 calls for help an hour.
Trump is scheduled to arrive in Corpus Christi for a briefing, then move to Austin to tour the Emergency Operations Center and meet with state and local officials. There is no word yet on whether he will actually help or hinder the situation.
At least nine people have died in the wake of the hurricane, which first made landfall on Friday, and Houston police Chief Art Acevedo offered a grim projection for what is to come.
"We know in these kind of events that, sadly, the death toll goes up historically. I'm really worried about how many bodies we're going to find," Acevedo told the AP.
G/O Media may get a commission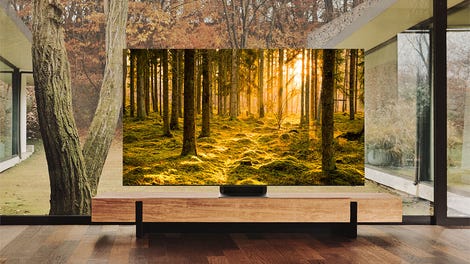 Up to 40% off
Samsung Smart TVs
For now, Houston—the nation's fourth-largest city—remains underwater, and tens of thousands of people are expected to need temporary shelter. After four days of rain over Texas, Louisiana is bracing for Harvey's impact, with a flash-flood watch already in effect in New Orleans, the city decimated by Hurricane Katrina just 12 years ago.
WHAT ELSE?
So don't freak out but: North Korea violated the sovereignty of Japan by firing a mid-range ballistic missile, which is designed to carry a nuke, over the country's airspace and into the Pacific Ocean. It's likely the country's longest launch to date, and a major act of defiance to the U.S.' policy of "fire and fury" for the burgeoning nuclear power.
Sheriff Joe Arpaio, fresh off a presidential pardon, is reportedly very concerned that the media is characterizing his policies, which included the physical and psychological torture of Latinx and Mexican prison inmates, are being characterized as "racist."
Televangelist Joel Osteen will begrudgingly open the doors of his 16,000-seat megachurch in Houston "once shelters reach capacity," after tons of people pointed out that it's not exactly Christian to close your doors to countless thousands who've lost everything in the storm.