As Donald Trump walked out on stage tonight in Mosinee, Wisconsin, the crowd roared. The president looked out on the hordes with his usual expression of smug satisfaction, thanking them for winning the state for him in 2016. Then, the tone shifted. Trump, usually off-the-cuff and loose in his live performances, dryly recited a clearly pre-written statement about the bomb threats made against prominent Democratic leaders today.

"My highest duty, as you know, as President, is to keep America safe. That's what we talk about. That's what we do," he said, according to CNN. "The federal government is conducting an aggressive investigation and we will find those responsible and we will bring them to justice. Hopefully very quickly. Any acts or threats of political violence are an attack on our democracy, itself."
"No nation can succeed that tolerates violence or the threat of violence as a method of political intimidation, coercion, or control. We all know that. Such conduct must be fiercely opposed and firmly prosecuted. We want all sides to come together in peace and harmony. We can do it. We can do it. We can do it. It will happen," he continued.
Trump went on to add that, "we must stop treating political opponents as being morally defective," a pastime he has certainly never engaged in. The president then quickly pivoted to condemning the media for their "divisiveness," just hours after CNN headquarters was evacuated due to another bomb threat.
Only a few moments before he went on, as Republican Senate candidate Leah Vukmir spoke, the crowd had chanted "lock her up" at the mention of Trump's former opponent Hillary Clinton. Clinton was one of the Democrats who received a suspicious package in the mail today.
G/O Media may get a commission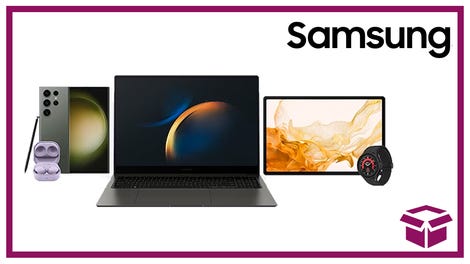 24 hour deals
Discover Samsung - Daily Deal
As Trump called for unity, the crowd barely responded, seemingly unsure of whether they were supposed to cheer or boo threats against the people this same man had told them to despise again and again. The only thing that brought out a serious response was when Trump condemned "destroying public property."
"We're all behaving very well," Trump said of the crowd, sounding amuse, perhaps referring to the many incidents of violence at his own rallies—incidents he often encouraged from the stage. "I'm being very nice," he added.
Trump then continued on to his regularly scheduled fear-mongering and race-baiting, hammering on the "caravan" of Central American migrants who are currently making their way through Mexico on their way to seek asylum in the U.S., MS-13, building the wall, and other greatest hits. The show went on.