President Trump is expected to decide if he will end the Deferred Action for Childhood Arrivals program imminently. Throughout the campaign, Trump repeatedly declared his intention to kill the Obama-era program; however, his position has inexplicably shifted since taking office. Trump declared that DACA recipients could "rest easy" at a speech in April, but it appears that may no longer be the case.
On Thursday night Axios reported that Trump was "seriously considering" ending the program, which has bestowed 750,000 undocumented immigrants who entered the country illegally as children with work permits.
All the usual suspects have encouraged the president to kill the program (not that his anti-immigrant sentiments need encouraging). Attorney General Jeff Sessions has unsurprisingly led the charge against DACA and has since he was a senator. Sessions' position is backed by 10 conservative states whose attorney generals threatened to sue the Department of Homeland Security if it does not suspend the program.
While John Kelly was still Secretary of Homeland Security, he privately expressed doubt over DACA's future to the Congressional Hispanic Caucus. Kelly did not believe DACA would survive if challenged in court. As recently as this week, currently DHS leadership suggested the decision was still being considered by the president.
"The future of the DACA program continues to be under review with the administration," acting U.S. Citizenship and Immigration Services spokeswoman Gillian Christensen told Politico. "The president has remarked on the need to handle DACA with compassion and with heart."
G/O Media may get a commission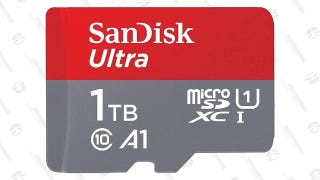 Save $75
SanDisk Ultra 1TB MicroSDXC Card
I'm not sure anyone would associate "compassion" and "heart" with Trump or his decision making process. "Callous" and "racist" are two words I would associate with him, however. So, in summary, he's probably going to kill DACA.