Just one day after White House Press Secretary Sean Spicer suggested Donald Trump would push forward the Dakota Access and Keystone XL oil pipelines, the president did just that on Tuesday by signing executive actions likely to reignite ferocious opposition from environmental groups.
While not a surprise—Trump's support for both DAPL and Keystone is well documented—the move is the first concrete step from the new administration to roll back President Obama's efforts to halt progress on both pipelines. It is unclear what specifically the orders mandate, but the overall message is unmistakable: Big oil is in, in a big way.
The move prompted angry responses from those who have been fighting the construction of the Dakota Access Pipeline for the past year. Kandi Mossett of the Indigenous Environmental Network—one of the key groups working with the Standing Rock Sioux Tribe to combat DAPL—said her organization has been expecting the move for some time now and vowed to continue their efforts to halt construction.
"The administration can expect continued non-violent direct action and civil disobedience in light of any decision that's going to be made," she told Fusion.
Mossett and the IEN aren't alone.
Greenpeace Executive Director Annie Leonard said in a statement that "a powerful alliance of Indigenous communities, ranchers, farmers, and climate activists stopped the Keystone and the Dakota Access pipelines the first time around, and the same alliances will come together to stop them again if Trump tries to raise them from the dead."
G/O Media may get a commission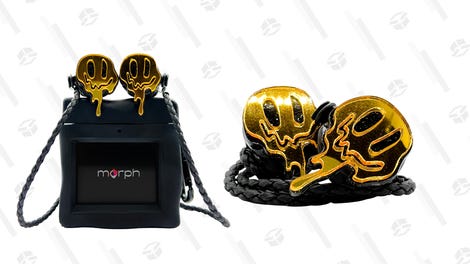 morph audio
Morph Earphones
May Boeve, the executive director of 350.org, a climate change advocacy group, offered an equally forceful response to the news.
"Trump clearly doesn't know what he's doing," Bove said in a statement. "Indigenous peoples, landowners, and climate activists did everything in our power to stop Keystone XL and Dakota Access, and we'll do it again."
Trump has been a public supporter of the fossil fuel industry for some time, going so far as to nominate former Exxon CEO Rex Tillerson to head the State Department and local Keystone supporter Scott Pruit to lead the Environmental Protection Agency. In May, speaking to a group of oil executives, Trump reportedly told the crowd that "I want [the Keystone pipeline] built, but I want a piece of the profits. That's how we're going to make our country rich again."
But, as Mossett told me over the phone, Trump should "expect pushback."
UPDATE: Shortly after Trump signed the Executive Actions, the Standing Rock Sioux tribe confirmed that they will immediately begin the process of fighting the order in court.