If Donald Trump's Twitter feed was not official enough, Trump made the official announcement Saturday that Indiana Gov. Mike Pence will be his running mate.
"So I'm here today to introduce the man who will be my partner in this campaign and in the White House to fix this rigged, rigged system … to make America safe again and make America great again," Trump said. He then did not name Pence directly, instead Trump then addressed the terrorist attack in Nice and how the U.S. has "so many friends in Turkey."
Despite reports of strife and indecision within the Trump campaign about the Pence decision, Trump insisted there Pence was his first choice.
Trump seemed to have trouble staying on topic about Pence. He trashed Hillary Clinton, bragged about his victory in the primaries (calling it a "landslide") and the last-ditch coup by the Never Trump faction. But Trump mainly talked about himself. At one point, Trump repeated his claim that he opposed the Iraq War (this has been called into question), saying "nobody listened to me because I was a businessman," although Pence voted for the war in 2002.
While also not discussing the alleged reason for the press conference, Trump took the time to repeate this dog whistle he used after the Dallas shooting ). "We're the law and order candidates," Trump said. we're the law and order party. There's going to be respect again for law and order."
G/O Media may get a commission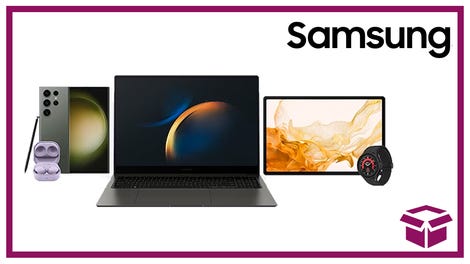 24 hour deals
Discover Samsung - Daily Deal
Trump mentioned Pence's support of Ted Cruz during the primaries, but said Pence "really endorsed me" and suggested Pence had only thrown his support to Cruz because of "pressure." "It was the single greatest non-endorsement I've ever received," Trump said.
About 30 minutes into the press conference, Trump did start to talk what he believed to be Pence's accomplishments in Indiana. Pence did not appear on stage until 11:40, more than a half hour after the press conference started.