In the latest chapter of his ad lib, crisis management presidency, Donald Trump had to do something he's not used to: act like a human being while interacting with normal people facing unfathomable suffering.
Trump visited victims of Hurricane Harvey in Houston on Saturday during a return trip to Texas just four days after he first went there to wave a state flag in a staged photo op in Corpus Christi. This time, however, Trump was more engaged with flooding victims, briefly serving them food at the NRG Center, which has become Houston's largest emergency shelter, and going out of his way to ensure cameras filmed him being nice to a bunch of kids.

And he didn't even try to sell his ugly, overpriced USA hats.

Catastrophic flooding from Harvey has caused an estimated $125 billion dollars in damage in Texas, and at least 43 deaths. Over 185,000 homes were damaged or destroyed leaving more than 1 million evacuees displaced, and 40,000 people were in shelters at the start of a long holiday weekend. Before leaving for Texas, Trump had requested $7.9 billion in initial funding for disaster relief and called for a national day of prayer on Sunday.

On the ground in Houston for just a few hours, Trump cracked jokes as he fumbled his way through crowds.
"I like that. I want one," he said while rummaging through a Styrofoam container with a donated meal at the NRG Center. "You want? Anybody?"
G/O Media may get a commission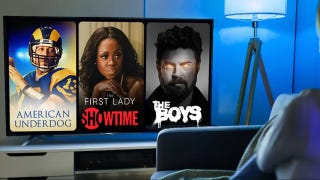 UNDER $1
99¢ Prime Video Channels
In another Trumpian moment noticed by The Hill, he turned to journalists and exclaimed, "My hands are too big!" as he tried to put on a pair of gloves. Except we know that they're not.
 
The president also helped load supplies into the back of a pickup truck. Later, as he prepared to board Air Force One en route to Lake Charles, LA, he thanked members of the Coast Guard, whom he said had rescued at least 11,000 people.
And that is what it took for the worst president in the history of the United States to appear "presidential" after seven months of setting the bar so very, very low.