Donald Trump has had a weird relationship with Attorney General Jeff Sessions for over a year, and it all comes back to Sessions' decision to recuse himself from the Russia investigation.

Now, the New York Times is reporting that Trump actually went one step further. After Trump channeled his inner angsty 13 year-old and gave Sessions what the Times called the "silent treatment," Trump reportedly "berated" Sessions and told him to reverse his recusal from the investigation:
When Mr. Trump learned of the recusal, he asked advisers whether the decision could be reversed, according to people briefed on the matter. Told no, Mr. Trump argued that Eric H. Holder Jr., President Barack Obama's first attorney general, would never have recused himself from a case that threatened to tarnish Mr. Obama. The president said he expected the same loyalty from Mr. Sessions.


Some people close to the president have said privately that they believed the recusal was overly broad and done too hastily in the middle of public scrutiny over Mr. Sessions's congressional testimony.
This as after he had also reportedly forced White House counsel Don McGahn to lobby Sessions to not recuse himself in the first place
The Times reports that the incident where Trump asked Sessions to unrecuse himself is being investigated by Special Counsel Robert Mueller's office. Sessions, you might remember, recused himself to begin with because he didn't disclose two instances of contact he had with the Russian ambassador to the United States during his confirmation hearing. Bloomberg reported in March that Mueller had investigated Sessions for perjury over this incident.
G/O Media may get a commission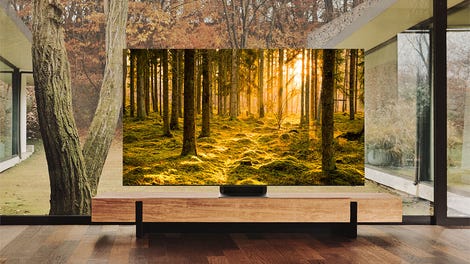 Up to 40% off
Samsung Smart TVs
Finally, the Times says that Trump demanded that former chief of staff Reince Priebus get Sessions to resign last July, after Trump told the Times that he wouldn't have hired Sessions in the first place if he knew he was going to recuse himself from the investigation. According to Tuesday night's report, Priebus was told by Sessions' chief of staff that Trump would have to ask Sessions himself to resign, but by the end of the month, Priebus himself was gone.
Because Trump lawyer Rudy Giuliani is physically incapable of shutting up, he weighed in on all of this to say that it's totally cool for a sitting president to ask that a government official pledge his undying loyalty to him:
Talking about the attorney general, Mr. Giuliani argued, would set a bad precedent for future presidents.

Mr. Giuliani said that he had not discussed Mr. Sessions's recusal with Mr. Trump but that a request that Mr. Sessions reassert control over the Russia investigation would be within the bounds of the president's authority.

"'Unrecuse' doesn't say, 'Bury the investigation.' It says on the face of it: Take responsibility for it and handle it correctly," Mr. Giuliani said on Tuesday evening.
Wonder what "handle it correctly" means.