On Sunday, the USS John S. McCain collided with another ship passing through the Strait of Malacca near Singapore. Ten sailors were reported missing and five injured after the guided-missile destroyer hit an oil tanker while it was headed to port in Singapore early Sunday morning.
Twitter erupted with disdain when President Trump reportedly said "that's too bad" in response to a reporter's question about the collision.

G/O Media may get a commission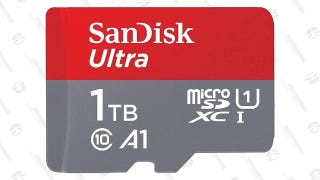 Save $75
SanDisk Ultra 1TB MicroSDXC Card
"That's too bad" is an unusually flippant knee jerk response to a possible military tragedy from an unusually impulsive president. His response to Kirsten Stewart and Robert Pattinson's breakup was more passionate. It's possible, though, as New York Times reporter Maggie Haberman pointed out, that Trump wasn't briefed on the situation before he commented. He later tweeted that his "thoughts and prayers" were with the Navy sailors aboard the USS John S. McCain.
Whatever. When a reporter asks the president for a comment on a Navy ship that has collided with another boat, the appropriate response is not that difficult to formulate. Even for an inept clown like Trump. There are few things more important to a politician, however experienced he or she is, than revering the military. Shrugging off a military accident as "that's too bad" is a level of irreverence Trump usually reserves for anyone who doesn't bend to his will.

As for the USS John S. McCain, which was named after Senator John McCain's father and grandfather, it was able to sail to port with assistance from tugboats. Rescue helicopters are searching for the missing sailors.