Donald Trump's aggressive new plan to create a deportation task force could—perhaps inadvertently— end up targeting more undocumented immigrants from Europe and Canada than the Mexicans he's been trashing so hard during his campaign.
During his lengthy immigration policy speech on Wednesday night, Trump said his "new special deportation task force" would focus on deporting criminals, gang members, security threats and immigrants who have overstayed their visas.
"Last year alone nearly half a million individuals overstayed their temporary visas. Removing these overstays will be a top priority of my administration," Trump said last night in Phoenix. He said he views the issue as one that's paramount to national security. "Visa overstays, pose — and they really are a big problem— pose a substantial threat to national security," Trump said.
Most of the immigrants who would be in the crosshairs of Trump's deportation task force, or 4.5 million people, would be foreigners who have simply overstayed their visas, according to the Washington Post's analysis.
G/O Media may get a commission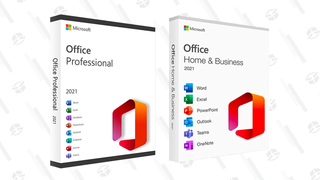 89% off
Microsoft Office Professional 2021 Lifetime License
But who are these people? It's a tricky population to track, but the numbers available might surprise you. European citizens represented 123,729 of the foreigners who overstayed their visas last year, while Canadians represented 93,035, according to government numbers. By comparison, only 42,114 Mexicans overstayed their visas, government data shows. [PDF]
To put that number in perspective, The Irish Embassy in Washington, D.C. estimates there are as many as 50,000 undocumented Irish immigrants living in the U.S., mostly from overstaying their visas.
So Trump's deportation task force, even if intended as a Mexican dragnet, could ultimately end up targeting folks who look more like The Donald and his wife—you know, people of European descent. Only 16% of Mexicans—and approximately 27% of Central Americans— living in the U.S. illegally entered the country on a tourist or business visa, according to estimates by Marc Rosenblum of the Migration Policy Institute published by Politifact. It wasn't always so hard for Mexicans and Central Americans to get visas. But things got trickier following new legislation in the late 1990s and border-tightening following the terrorist attacks of 9/11.
So Trump's deportation task force is statistically much more likely to target Canadians and Europeans than people from Mexico and Central America.
But let's pause right there for a second. There's another statistical probability that's just as important to consider. People of color have a much greater likelihood of having interactions with law enforcement than white Canadians or Europeans. So in reality, brown and black people from the developing world would most likely still end up getting netted disproportionately by a deportation task force, especially one birthed by Trump.
So Trump could create a special task force that targets and intimidates Mexicans and other immigrants with dark skin, but it would have to be called a Special Racist Deportation Task Force.