We've seen before how President Donald Trump conducts himself in the moments and hours after global crises. But his response to Saturday night's terrorist attacks in the heart of London, which left seven dead and dozens wounded, is obnoxious, petty, and incredibly frightening.
Consider for a moment how Trump would respond if something like this happened in the U.S., and then British Prime Minister Theresa May politicized the moment to further a personal agenda. It would be nothing short of outrageous.

Yet that's exactly what Trump has done to the U.K., via Twitter, his favorite psychosocial medium.

While White House press secretary Sean Spicer said Trump was informed of the attacks by his national security team, the fact that he immediately retweeted a Drudge Report post—without facts officially confirmed yet by British authorities—raises serious questions about the president's priorities and his preparedness during high-level moments of crisis.

Would Trump also take his cues in a possible domestic incident in the U.S. from right-wing blogs?
G/O Media may get a commission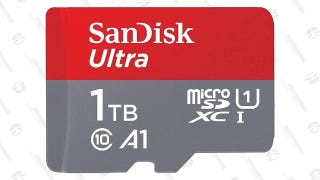 Save $70
SanDisk Ultra 1TB MicroSDXC Card

As the world watched in horror while the chaos and terror unfolded in central London, Trump unleashed a tweet storm that continued very early Sunday morning.

His second tweet in the series, which came an hour after the Drudge Report retweet, politicized the London tragedy—still unfolding at the time—by using it as an opportunity to both attack the U.S. courts and justify his unconstitutional Muslim ban.

Former U.S. Secretary of State John Kerry has said a "travel ban" would be "cannon fodder" for terrorist recruiters.
The only silver lining in this is that Trump may have torpedoed his own chances of reversing earlier court rulings against his proposed ban when he tries to take it to the Supreme Court, which his administration announced it would do on Thursday. In earlier rulings, Trump's own words have been used against him in court.

The American Civil Liberties Union all but thanked Trump for making their case against the ban:

Trump finally offered the U.K. a message of condolences in his third tweet, stating, "Whatever the United States can do to help out in London and the U. K., we will be there - WE ARE WITH YOU. GOD BLESS!"

Other world leaders had appropriately issued somber, supportive messages.

As The Washington Post notes, "those world leaders who did speak out early were largely circumspect. Restrained. Sympathetic."

The Post report mentions a tweet from London's Metropolitan Police that came after Trump's Drudge Report retweet. The question invoked is: Were they responding to Trump, or was it merely a coincidence?

Regardless, Trump was back at it hours later on Sunday morning, fanning the flames with divisiveness instead of mourning victims and offering support to an ally in pain.

"We must stop being politically correct and get down to the business of security for our people," Trump stated, ignoring that the attacks occurred in London, not Pittsburgh.

He then wrongly harassed London's mayor, Sadiq Khan, a popular target for Trump bullying, both by the president and his son, Donald Trump Jr., who criticized Khan after the last London terrorist attack in March.

The president tweeted:

But either he had misunderstood Khan's statement, wasn't paying attention, or intentionally took it out of context to lobby a cheap attack at a major metropolitan leader who garners far more respect than Trump ever will.

As CNN noted:

But when Khan said in a statement that there was no cause for alarm, he was referring specifically to a visible increase in police activity on the streets of London in the wake of the attack.

"Londoners will see an increased police presence today and over the course of the next few days. There's no reason to be alarmed," he said.

Khan told CNN's Christiane Amanpour that the attack was "evil and cowardly" while also emphasizing that more police would be on the streets of London in the coming days.
The CNN report then lists a long series of responses from British politicians who are outraged by Trump's puerile behavior. But also commenting was Brendon Cox, the husband of British MP Jo Cox, who was stabbed, shot, and killed by a right-wing terrorist last year.

Here's what Cox said:

Trump, however, wasn't done causing damage, and Cox's statement seemed to foreshadow Trump's next and final tweet on the London attacks, coming in around 4:30 a.m.:

If Trump had paid more attention to his intelligence briefings instead of right-wing blogs, he may have noticed this piece of Islamic State propaganda circulated on Saturday:

After he had finished tweeting, Trump headed to one of his golf clubs for the second day in a row.