Donald Trump is full of love when he's winning, and these days it seems like he's not doing much besides "winning winning winning."
Following his 45.9% win in the Nevada Republican presidential primary, Trump delivered a long list of thanks during his speech at the Trump International Hotel in Las Vegas.
Using his own special brand of blunt phrasing, Trump at one point thanked the "poorly educated" for coming out to vote for him.
"We won with young. We won with old. We won with highly educated. We won with poorly educated," Trump said, before adding. "I love the poorly educated."
Here is a list of other things Trump loves from to his speech last night:

Nevada
Florida
the Second Amendment ("Nobody loves it more than us, so just remember that.")
evangelicals
Liberty University
the country
this place
this state
Las Vegas
you folks
you
But it wasn't all love, as Trump took a moment to comment on President Obama's plan to close the detention center at Guantanamo Bay Naval Base, announced earlier that day.
G/O Media may get a commission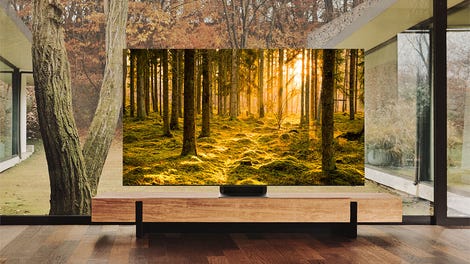 Up to 40% off
Samsung Smart TVs
"We're going to keep, as you know Gitmo. We're keeping that open, and we're going to load it up with bad dudes. We're going to load it up w a lot of bad dudes out there."
Trump did not elaborate on his problem with the late 1980s video game Bad Dudes.