After speculation that President Donald Trump was considering issuing an executive order reversing employment discrimination protections and adoption rights for LGBTQ people, the White House issued a statement Monday night rejecting the rumors.

"President Trump continues to be respectful and supportive of L.G.B.T.Q. rights, just as he was throughout the election," a White House spokesperson said in a statement to the New York Times. "The president is proud to have been the first ever G.O.P. nominee to mention the L.G.B.T.Q. community in his nomination acceptance speech, pledging then to protect the community from violence and oppression."
The statement added that the decision was made by Trump himself, the paper reports. But it does not address whether or not the president would support a version of the First Amendment Defense Act (FADA), which Republicans introduced in 2015 and would effectively undo Obama's LGBTQ protections anyway.
Congressional Republicans said in December that they plan to re-introduce the bill, part of a striking trend of proposed legislation across the country created in response to the Supreme Court's 2015 ruling upholding same-sex marriage.
The bill would shield individuals and businesses from any "discriminatory action"—meaning legal action or withholding funding—by the federal government if they act "in accordance with a religious belief or moral conviction that: (1) marriage is or should be recognized as the union of one man and one woman, or (2) sexual relations are properly reserved to such a marriage." (So this would also include, by the bill's 2015 standard, anyone perceived as having sexual relations outside marriage.)
G/O Media may get a commission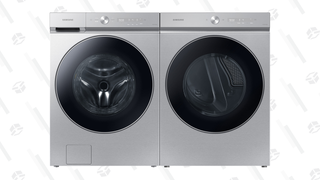 Get $500 back in credit
Last Chance: Samsung Bespoke AI Washer and Dryer Preorder
A FADA law would have wide-reaching consequences: for example, it would extend landlords, homeless shelters, and employers the legal standing to deny, reject, and turn away LGBTQ people and unmarried women.
Soon after the White House statement to the Times on Monday night, the president of the largest LGBTQ advocacy group in the country, the Human Rights Campaign, said on Twitter that Trump's announcement sets "rather a low bar" for this administration's approach to LGBTQ rights:
Trans rights groups are equally unimpressed with the White House statement. Mara Keisling, Executive Director for the National Center for Transgender Equality, said in a statement:
The fact that proactively discriminating against transgender and other LGBT people was even being discussed in the White House is shameful, as is the fact that there are other options still on the table to target LGBT Americans. This limited retreat certainly does not make President Trump an ally to transgender Americans. He is certainly not an ally to transgender refugees, transgender Muslims, or transgender people who depend on the Affordable Care Act or Planned Parenthood.
Such a bill would "eviscerate the historic nondiscrimination executive order that President Obama signed last summer to prohibit businesses that contract with the federal government from engaging in discrimination on the basis of sexual orientation and gender identity," wrote Ian S. Thompson, from the ACLU's Washington Legislative Office, of the bill. "While this bill does nothing to protect individuals' rights under the First Amendment, it would provide a sweeping right to discriminate in federal law."
With Tuesday's likely confirmation of Alabama Senator Jeff Sessions, one of the original sponsors of that bill, as Attorney General, it seems unlikely that the issue will be left alone by the administration. And Trump said in September last year that he would support FADA if it was passed by Congress. "I will sign it to protect the deeply held religious beliefs of Catholics and the beliefs of Americans of all faiths," he said in the 2016 statement:
The executive order signed by President Barack Obama in 2014 made it illegal for federal contractors to discriminate on the basis of sexual orientation or gender identity. It also meant that any entity that conducts business with the federal government is required to have clear anti-discrimination policies to protect LGBTQ people. That, in effect, covered some 28 million workers (about a fifth of the American workforce) the Washington Post reports.
Nationally, 28 states have no employment discrimination protections for LGBTQ people, according to the Movement Advancement Project. Two states have protections on the basis of sexual orientation but not gender identity. And several states, including Indiana under now-Vice President Mike Pence, have tried to pass "religious freedom" bills similar to FADA in recent years. In Indiana, Pence signed the bill into law in 2015, drawing intense backlash from Indiana-based businesses and civil rights groups.
The lack of consistency in state protections is partly why Obama's move in 2014 was such a landmark protection for LGBTQ Americans. The White House statement from Monday does little to assure that those protections will remain in place through Trump's term.