Today, in a radio interview with Geraldo Rivera, President Trump said he was an "absolute no" on statehood for Puerto Rico, attributing his reluctance to his dislike of San Juan's mayor, Carmen Yulín Cruz, who has criticized the federal response to Hurricane Maria, the Washington Post reports.

"With the mayor of San Juan as bad as she is and as incompetent as she is, Puerto Rico shouldn't be talking about statehood until they get some people that really know what they're doing," Trump told Geraldo Rivera.
Trump even suggested he didn't know Cruz' name. "If you had people like the mayor of San Juan, whatever her name may be, she is a horror show," Trump said. "She was so bad and so disrespectful to our military, to our first responders, and to our great FEMA people, who did a phenomenal job."
Puerto Rico is essentially a modern day U.S. colony with little power over its own affairs. Refusing to consider granting them the democratic power they've long deserved because of an interpersonal conflict between the president and their leaders isn't a great look. In a normal presidency, this might be a major scandal. But, since this is the Trump presidency, no one is likely to pay much attention.
G/O Media may get a commission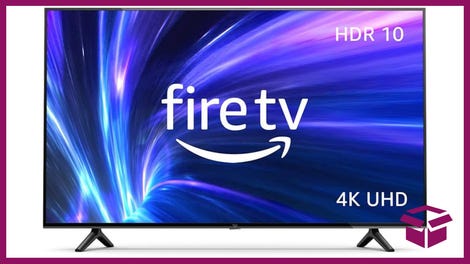 42% Off
Amazon Fire TV 50" 4K Smart TV
Puerto Rico governor Ricardo Rosselló condemned the president's statement.
"This is an insensitive, disrespectful comment to over 3 million Americans who live in the U.S. territory of Puerto Rico," Rosselló said in a statement. He called out "the unequal and colonial relationship between the United States and Puerto Rico."
Trump has been publicly defensive over the federal government's performance in recovering from the hurricane in Puerto Rico. Earlier this month, he denied the reported death toll of nearly 3,000 from the storm, calling the number a tactic of the Democrats to make him look bad. He later called the federal government's response to the hurricane an "unsung success."
Puerto Rico is currently a U.S. territory. Residents can vote in presidential primaries, but not in general elections. In last year's referendum on statehood, 97 percent of Puerto Ricans voted to support becoming a state. However, the election was widely criticized, and only 23 percent of registered voters participated. A Washington Post poll published this month found that 48 percent of Puerto Ricans support statehood, while 26 percent support remaining a territory, and 10 percent want to become an independent country.
In June, Puerto Rico's nonvoting representative to the House of Representatives, Jenniffer González-Colón, introduced a bill that would make the territory a state by no later than 2021.