A report from CNN today revealed that one of President Trump's (now former) speechwriters, Darren Beattie, spoke at the white nationalist H.L. Mencken Club Conference in 2016. It seems that he was fired by the White House in response to CNN's reporting. They write:

The White House, which asked CNN to hold off on the story for several days last week declined to say when Beattie left the White House. Beattie's email address at the White House, which worked until late Friday evening, was no longer active by Saturday.
The H.L. Mencken Club is an extreme right-wing organization named after the late satirist who was found to be a white supremacist after his death. (A typical Mencken quote: "The educated Negro of today is a failure, not because he meets insuperable difficulties in life, but because he is a Negro.") The conference is often attended by famous racists like Richard Spencer. Speakers in 2016, when Beattie attended, included the white nationalist Peter Brimelow and writers John Derbyshire and Robert Weissberg, who were fired by the National Review in 2012 for their racist views were.
"Mr. Beattie no longer works at the White House," White House spokesman Hogan Gidley told CNN. "We don't comment on personnel matters."
"In 2016 I attended the Mencken conference in question and delivered a stand-alone, academic talk titled 'The Intelligentsia and the Right.' I said nothing objectionable and stand by my remarks completely," Beattie told CNN in an email. "It was the honor of my life to serve in the Trump Administration. I love President Trump, who is a fearless American hero, and continue to support him one hundred percent. I have no further comment."
According to the Washington Post, Beattie pushed back against the White House's urging for him to resign:

Once White House officials were informed about CNN's pending report, Beattie reportedly was confronted and urged to step down immediately. But he apparently refused to resign, arguing that he was not racist and that he had made uncontroversial academic points at the Mencken gathering. When it became clear that Beattie would not resign, the people familiar with the matter said, the White House terminated him.
G/O Media may get a commission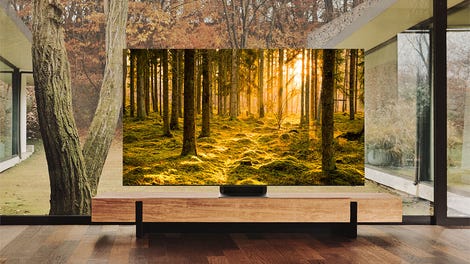 Up to 40% off
Samsung Smart TVs
Beattie is a former Duke University PhD student and visiting lecturer, who wrote his doctoral thesis on the philosopher Martin Heidegger, a Nazi. "Beattie has called Heidegger's Nazi affiliation 'highly troublesome' but maintained that his work is worthy of scholarly attention, according to a report by Forward magazine," the Post writes.
Beattie has said in the past that he supported Donald Trump's candidacy because of his unwillingness to apologize for his comments on immigration. He wrote last year in Duke's student newspaper that Trump's travel ban was "perfectly reasonable."
Yeah, there's no way this guy is a racist.
CORRECTION: A previous version of this article referred to Beattie as a former Duke professor. He was in fact a former PhD student and visiting lecturer. We regret the error.