Donald Trump went on Fox News on Thursday and suggested that NFL players protesting racial injustice and police brutality "shouldn't be" in America at all.

"You have to stand proudly for the national anthem or you shouldn't be playing, you shouldn't be there," Trump told Fox & Friends host Brian Kilmeade. "Maybe you shouldn't be in the country." (Kilmeade responded to this blatant attack on free speech with his usual blankness.)
Trump's "love it or leave it" threat came after NFL team owners cast a near-unanimous vote (San Francisco 49ers owner Jed York abstained) to mandate that all players on the field stand for the national anthem, or risk fines for their team. The decision was made as a response to the protests launched by blacklisted former pro-quarterback Colin Kaeapernick, who repeatedly knelt before games to call attention to systemic racial inequality.
The interview—filmed shortly after Trump warned a room full of people about the dangerous menace of immigrant children on Wednesday afternoon—marks a low point in the president's long-running, racist feud with NFL players who have the audacity to exercise their First Amendment rights.
"I think the people pushed it forward, this was not me. I brought it out. I think the people pushed it forward," Trump continued. "This country is very smart. We have very smart people and that's something ideally could have been taken care of when it first started. It would have been a lot easier."
G/O Media may get a commission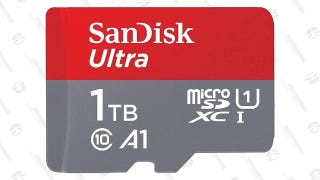 Save $70
SanDisk Ultra 1TB MicroSDXC Card
Tangentially related: it's been just over one year since Melania Trump had to publicly rebuke her husband by reminding him to place his hand over his heart during the anthem on the White House balcony.