President Donald Trump attempted to course correct Tuesday afternoon after more than 24 hours of resounding criticism—from both sides of the aisle and U.S. allies around the world—over his disastrously friendly press conference with Russian President Vladimir Putin. His solution? Claim that he meant the exact opposite of what he said a day before.

Speaking from the White House Cabinet Room, Trump's statement marked a major effort to change the narrative from Monday, when he stood alongside Putin and said he didn't see "any reason why it would be" Russia that worked to influence the 2016 election through cyberattacks.
Trump expressed his "full faith and support" in the American intelligence community's consensus that Russian forces meddled, but added that the perpetrators "could be other people also. A lot of people out there." He continued:
I have full faith and support for America's great intelligence agencies and I have felt very strongly that while Russia's actions had no impact at all on the outcome of the election...I accept our intelligence community's conclusion that Russia's meddling in the 2016 election took place. Could be other people also. Lotta people out there. There was no collusion at all.
On the question of why he said exactly the opposite thing yesterday, Trump said he simply misspoke:

I realize there is the need for some clarification...in a key sentence in my remarks, I said the word 'would' instead of 'wouldn't." ... The sentence should have been, 'I don't see any reason why it wouldn't be Russia.' Sort of a double negative.
Despite the seriousness of the situation, there was still time for Trump's trademark hilarity when the lights were unexpectedly cut in the room:
G/O Media may get a commission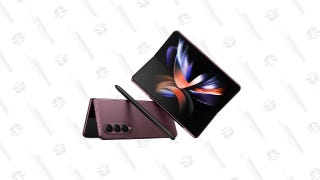 Save Up to $300
Galaxy Z Fold4
Say hello to our next news cycle!