In a televised address to the nation on Monday morning about the massacre overnight at a concert in Las Vegas—which left more than 50 dead and hundreds more wounded—President Donald Trump called one of the deadliest mass shootings in modern U.S. history an "act of pure evil." But he failed to address one of the prime sources of that evil—the gun used to slaughter and injure so many people.

In the address—which some observers immediately fell over themselves to call "presidential"—Trump thanked first responders for their fast, courageous action, saying they exemplified "true professionalism."
Trump also addressed the families of those who've lost loved ones in the attack.
"Hundreds of our fellow citizens are now mourning the sudden loss of a loved one—a parent, a child, a brother or sister. We cannot fathom their pain. We cannot imagine their loss," the president said.
He continued: "In moments of tragedy and horror, America comes together as one—and it always has. We call upon the bonds that unite us — our faith, our family, and our shared values. We call upon the bonds of citizenship, the ties of community, and the comfort of our common humanity. Our unity cannot be shattered by evil."
Yet, although the shooting was carried out by a single man who was able to use a high-capacity automatic weapon to fire dozens of shots on the crowd before reloading, Trump managed to avoid saying the word "guns" or "gun" even once, with the closest he got calling the suspect, who was killed by police, a "gunman." Unsurprisingly, he made no mention of gun control.
G/O Media may get a commission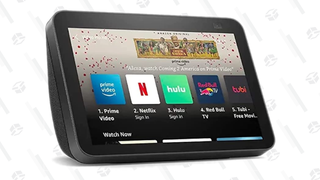 Trump also announced he will visit Las Vegas on Wednesday, one day after he is scheduled to travel to Puerto Rico, where more than half of the island's residents—who are U.S. citizens—are still without drinkable water in the wake of Hurricane Maria.
It's been nearly two weeks since that natural disaster. Trump has tweeted numerous times to defend his administration's handling of the response effort, which many of the ground, including the mayor of Puerto Rico's capital city, have sternly criticized. But he has not addressed the nation with a call to help their fellow citizens, who are dying without access to the basic necessities for their survival.