Before the now infamous Trump Tower meeting between Donald Trump Jr., Jared Kushner, Paul Manafort, and Russians with suspected ties to the Kremlin, Team Trump's tactic of deflecting and obfuscating scandals had worked pretty well. But that strategy is faltering under the weight of ongoing allegations of collusion with a foreign adversary by Trump's inner circle.
Granted, the Trump administration and its army of attorneys, along with media apologists and mouthpieces like Fox News, Brietbart, and other "alt–right" publications, are waging an all–out blitz to try to downplay the importance of the Trump Tower meeting, and if that doesn't work, to blame everyone else but those responsible for this legal fiasco.

One of their attempts at this strategy after The New York Times broke the story last weekend was to blame former U.S. Attorney General Loretta Lynch for allowing Russian attorney Natalia Veselnitskaya into the country on a special temporary visa so that she could represent a client.

Here's what President Trump said at a press conference in Paris on Thursday: "Somebody said that her visa or her passport to come into the country was approved by Attorney General Lynch. Now, maybe that's wrong. I just heard that a little while ago, I was surprised to hear that. She was here because of Lynch."

Now, anytime Donald Trump says, "I just heard that a little while ago…" we can probably assume he's not being forthcoming. Lynch fired back that she had no personal knowledge of Veselnitskaya's trip to the U.S. or the visa.

G/O Media may get a commission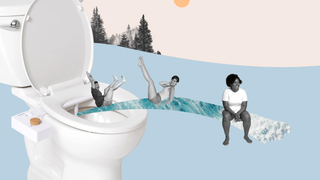 17% off
Tushy 3.0 Warm Water Spa Bidet Attachment
"The State Department issues visas, and the Department of Homeland Security oversees entry to the United States at airports," a spokesperson for Lynch said, according to The Hill.

The second deflection strategy is to vilify the presidential campaign of Hillary Clinton and the DNC for seeking "opposition research" from the government of Ukraine. While Trump's diehard supporters may buy this propaganda, others have quickly deflated the argument.

"It's like 'trying to make the Lewinsky scandal about Bob Dole getting a blowjob,'" a GOP operative and outside adviser to President Trump said, according to the Daily Beast. But the Trump Team already knew this was a weak argument to begin with.

Enter the latest softball counteroffensive on Sunday morning, which began with another baseless Twitter attack of Clinton (and the #FakeNews media), and ended with the president's lawyer blaming…the Secret Service?

Trump legal team member Jay Sekulow appeared on ABC's This Week on Sunday morning and was asked if the FBI should have been notified when it became known that representatives of a foreign government sought a meeting with the Trump campaign to influence the election.
Sekulow responded by saying, "Well, I wonder why, if this were nefarious, why the Secret Service allowed these people in. The president had Secret Service protection at that point. That raised a question with me."

But the controversial Russian American lobbyist and Soviet military veteran Rinat Akhmetshin, who was at the meeting, said on Friday that his attendance was impromptu after having had lunch with Veselnitskaya. Whether or not that's true, he also told Yahoo News' Michael Isikoff that he entered Trump Tower that day without anyone asking him for proof of his identity.

"No one asked us for IDs," he told Yahoo News. "We literally walked in."

So much for the Secret Service argument. I don't know how much the Trump administration is spending on attorneys these days, but whatever it is, it's way too much if this is the strongest defense they can put into play.

Update: Jay Sekulow's latest attempt to deflect was swiftly debunked on Sunday by the Secret Service. Secret Service spokesman Mason Brayman told Reuters that Trump Jr. was not under Secret Service protection at the time of the meeting, making Sekulow's argument incredibly stupid.
"Donald Trump, Jr. was not a protectee of the USSS in June, 2016. Thus we would not have screened anyone he was meeting with at that time," Brayman told the news agency.