During his campaign, Donald Trump cast a wide net. He attracted the poor, white working class with promises of bringing back the coal and steel industries, and also promised the One Percent tax cuts like the ones he enjoys so much. But class isn't the only division in Trump's coalition. He provides a common ground between two groups who hate one another: white nationalists and right-wing Zionist Jews.
It leaves Jews who voted for Trump with one very daunting question: How can President Trump possibly answer to both groups?
The president-elect has been compared to Adolf Hitler, and the Washington Post described some of his rhetoric as "smacking" of anti-Semitism. Yet 24% of America's Jewish population voted for Trump. At least some of those Jewish voters, who are 2.2% of America's population, had Israel in mind; for many American Jews, the preservation and expansion of Israel is paramount. The irony appears to be dramatic, considering that some white nationalist ideology is based on the extinction and destruction of Jewish people. But those Trump votes start to make more sense when we remember that fighting anti-Semitism is not the same thing as fighting for Israel.
For 30 years, Hillary Clinton has been a staunch supporter of Israel. During her tenure as Secretary of State, Clinton increased financial assistance to Israel's Qualitative Military Edge (QME) by 20% and explicitly expressed support for a two-state solution to the Israeli-Palestinian conflict. However, her support of Obama's Iran nuclear deal led many of the Jewish Zionists I spoke with to support Trump instead.
G/O Media may get a commission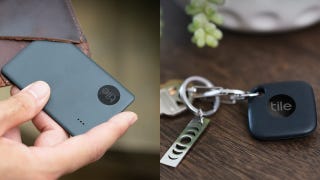 Up to 35% off
Tile Item Trackers
"It started out, for me, being about Israel and being Jewish," said Leah Mahfouda, a 66-year old registered Democrat. For her, Trump's condemnation of Obama's Iran nuclear deal, which Clinton backed, demonstrated a stronger allegiance to Israeli interests. The deal, which lifted nuclear-related sanctions on the country by requiring the Iranian government to curb its nuclear program, was highly criticized by Israeli Prime Minister Benjamin Netanyahu and the Israeli Defense Forces.
"The Iran thing is a terrible thing for Israel," said Mahfouda, who thinks had the sanctions remained, Iran would not have the financial resources to take part or cooperate in military actions against the Jewish state. Iran has not explicitly announced any such plans or taken credit for any attacks, and in her speech to the American Israel Public Affairs Committee in March, Clinton reiterated her readiness to reinstate sanctions in response to any Iranian provocation. Nonetheless, Mahfouda believes the 71% of Jews who voted for Hillary Clinton to be "their own worst enemy."
Other Jewish Zionist Trump supporters believe Trump's policies towards Israel will be hawkish based solely on his family ties. Jill Berkowitz is a 61-year old Trump supporter who said "[Zionists] think he'll be good for Israel because he has a son-in-law [who is] Jewish." Berkowitz, a resident of Long Island, N.Y., which is home to a somewhat conservative pocket of the Jewish vote, was referring to Jared Kushner, the husband of Ivanka Trump, a Modern Orthodox Jewish real-estate magnate, for whom Ivanka converted.
At his meeting with New York Times on Tuesday, Trump suggested that Kushner might somehow play a role in resolving the Israeli-Palestinian conflict. Trump's sons, Eric and Donald Trump Jr., are also married to Jewish women. Berkowitz also said Trump appears to be a dedicated father, whose children are the greatest testament to his character. "You can't raise three kids like that and be an asshole," Berkowitz said about Trump's eldest children.
Still, Trump supporters aren't the only ones who voted based on their support of Israel. For staunch supporters of Israel, the outcome of the 2016 election was very much a win-win situation. Clinton was "about as hawkish a candidate as you'll find when it comes to protecting Israeli interests. So she'd be great for Israel if you're a militant zionist like I am," said "Steven," a 32-year old Clinton voter who preferred to use a pseudonym for fear of anti-Semitic reproach for being a "vocal Jew." Personal politics aside, Steven is sure that the rise of anti-Semitism proceeding Trump's victory is cause for alarm for all Jews. "In the last 24 hours I've been grappling with taking off my [Star of David] chain," he said. Steven also described Trump as "Hitler-y," and believes Trump has "[normalized] white nationalism and put myself and my loved ones at risk…We are 'on track' for a Holocausting," he said.
Steven is right about a new wave of anti-Semitism. Since the election, there has been an uptick in anti-Semitic vandalism and violence. Just last week, a professor at Oberlin College received a note that read "GAS JEWS DIE" tucked behind his mezuzah, a scroll hung in the doorframe of Jewish homes. And in Brooklyn, a children's playground in Adam Yauch Park, named after the late Jewish member of the Beastie Boys, was defaced with swastikas and pro-Trump graffiti.
But anti-Semitic incidents that have sprung up since Trump's victory aren't necessarily the work of his white nationalist base, said Mahfouda. "We don't know who the Nazi, swastika people are," Mahfouda said about swastikas spray-painted onto a South Philadelphia storefront the day after the election. Mahfouda blames all the hateful rhetoric during Trump's campaign on his lack of political experience. "I will not defend him from one single thing that he said, but if you've noticed he's gotten a lot better," she said. "I don't believe he's racist. I really don't."
It may not matter whether Trump is personally anti-Semitic or racist. What does matter is that he's tapped a bunch of white nationalists to lead the country with him. "Bringing people like white nationalist Stephen Bannon in as White House chief strategist is an indication of how the incoming administration is normalizing extreme hate, white supremacy, misogyny, anti-Muslim and anti-Jewish bigotry," said Naomi Dann of the Jewish Voice For Peace, which has launched an ongoing campaign against Bannon's appointment. (Bannon denies being a white supremacist.)
Dann suggested that the incoming administration's desire to protect Israel may have very little to do with protecting Judaism or Jewish people, and everything to do with being against Palestine and the anti-Muslim sentiment that Trump built both his campaign and cabinet upon. Many of the discriminatory policies that Trump has proposed in the U.S. are already being implemented in Israel, she said.
It may sound confusing, but some of Trump's anti-Semitic supporters are also vehemently Zionist. Take Trump's pick for security advisor, General Michael Flynn, who favors warmer relations with Israel but also has been accused of anti-Semitism in the past. As recently as the presidential race, Flynn retweeted some deeply anti-Semitic remarks, criticizing the Clinton campaign for blaming Russia for the DNC email hack. "'The USSR is to blame!' … Not anymore, Jews. Not anymore," the tweet read.
Then there's Trump's controversial pick for chief White House strategist and senior counselor, Stephen Bannon. The former president of alt-right Breitbart News, which espoused both anti-Semitic and white nationalist views under Bannon's leadership, also carved out a space for Zionist writers. Bannon was in fact slated to speak at the annual Zionists of America annual gala in New York City last Sunday, where hundreds of mainly Jewish protesters gathered outside to denounce him. Ultimately, Bannon was a no-show.
If Trump's tweets are any indication, the president-elect seems to be more viscerally offended by free speech than by anti-Semitism (that's being openly embraced in his name). And even if Trump himself is a friend of the Jewish people, the bigoted faction of his voter base certainly is not, and community leaders are demanding that he be held accountable for that. And while Trump attempted to quell racially motivated attacks in a recent interview with 60 Minutes, and disavowed the Nazi conference in D.C. at his meeting with the New York Times on Tuesday, it remains to be seen how seriously similar events and incidents will be taken by the incoming administration.