Donald Trump continues to single out people he believes demonstrate "weakness" on the national stage.
In an interview with Yahoo News, Trump called the resignations of the University of Missouri's president and chancellor signs of "two babies," and warned their actions set a dangerous precedent. "It just showed such grotesque weakness and that just sent a signal to go out and do whatever you want to do, and now you're going to see this problem all over," Trump told Yahoo's Hunter Walker.
In his resignation speech, former University of Missouri President Tim Wolfe said he hoped his stepping down would be used as an opportunity to repair the "real" frustration students were experiencing.

Trump continued that he did not believe there was racism on campus at Mizzou, and that if he had been in charge, he would have stood up to the protesters and their demands. There have been several documented incidents of racism at Mizzou's Columbia campus: Missouri Students Association President Payton Head was called the n-word on campus, and the Legion of Black Collegians, the university's black student government, had racial slurs hurled at them.
In response, a group of students demanded Mizzou's top administrators resign, a racial tolerance curriculum be created, and that university increase the percentage of black faculty and staff campus-­wide to 10%, among other action items.
G/O Media may get a commission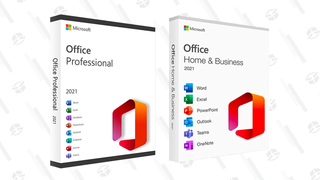 89% off
Microsoft Office Professional 2021 Lifetime License
"First of all, I would have made sure there was no discrimination or any of that—and I don't think there was," Trump said. "But I happened to look at the list of demands, those demands were crazy. Many of those demands were absolutely—not all—but many of those were absolutely over the top. And to watch these two men grovel and resign like two babies—whoever paid them in the first place?"
Trump continues to maintain a narrow lead in the GOP primary field according to Real Clear Politics' composite poll.
Rob covers business, economics and the environment for Fusion. He previously worked at Business Insider. He grew up in Chicago.