After a rough debate performance last night, Donald Trump explained why he neglected to talk about the one issue he had gone out of his way to tease before the debate.
"I'm very happy I was able to hold back on the indiscretions with respect to Bill Clinton, because I have a lot of respect for Chelsea Clinton," Trump told CNN after the debate. "And I just didn't want to say what I was going to say." Chelsea Clinton has a longstanding, if strained, friendship with Trump's daughter Ivanka.
When pressed about what exactly it was that he had planned on saying, Trump responded, "I'll tell you, maybe, at the next debate. We'll see."
The "indiscretions" Trump is referring to are Bill Clinton's extramarital affairs, both alleged and confirmed. In response to Hillary Clinton's invitation of noted Trump troll Mark Cuban to Monday's debate, the former reality TV star turned GOP presidential nominee publicly invited Gennifer Flowers, a woman who claimed to have carried on a 12-year affair with Bill Clinton. When Flowers's allegations surfaced during Bill Clinton's initial run for the presidency, he denied the affair. Later, in a deposition in a separate court case, he admitted to a one-time sexual encounter with Flowers two years into his marriage.
G/O Media may get a commission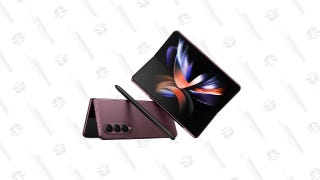 Save Up to $300
Galaxy Z Fold4
Flowers accepted Trump's invitation on Twitter, but the Trump campaign later announced that she would not be attending the event.
To recap Trump's logic: He first thought it would be appropriate to make a public spectacle out of his opponent's husband's extramarital affairs, something she is neither responsible for nor had any control over. Then, in a debate made notable by his frequent interruptions and outbursts, he managed to "hold back" out of "respect" for Chelsea Clinton, who has about as much to do with her father's "indiscretions" as her mother. Then he suggested that, despite his supposed respect for Chelsea Clinton, he might bring the issue up in the next debate.
If that sounds contrived, here is a simpler explanation: Trump wants to continue to bring up Bill Clinton's infidelities, but only in places where Hillary Clinton can't respond by bringing up the thrice-married billionaire's own multiple, well-documented infidelities.
Prior to his run for the presidency, Trump carefully cultivated a playboy public image. While married to his first wife, Ivana, Trump carried on a long and torrid affair with his then-soon-to-be second wife Marla Maples.
During the tumultuous transition between first and second marriages, Trump famously masqueraded as his own spokesperson to spread rumors about his love life. Two years before his marriage to Maples, Trump called People magazine using the pseudonym John Miller and told a reporter that he had dumped Maples for Italian model Carla Bruni. Bruni later denied any romantic involvement with Trump saying that he was "obviously a total lunatic."
Trump has also made braggadocious claims about sleeping with married women—and stands accused of other, more troubling sexual misconduct.
After Hillary Clinton demonstrated her preparedness in Monday night's debate, it's hard to imagine Trump walking onto future debate stages and opening up the can of worms that is the candidates' and candidates' spouses sexual history. But, when it comes to Donald Trump, anything is possible.