Returning from the G20 summit in Argentina, President Donald Trump on Saturday said he would unilaterally pull out of the North American Free Trade Agreement if U.S. lawmakers failed to adopt the recently signed U.S.-Mexico-Canada Agreement.
Speaking to reporters, Trump said, "I will be formally terminating NAFTA shortly…Congress will have a choice of approving the USMCA, which is a phenomenal deal. Much, much better than NAFTA. A great deal."

Trump said NAFTA had "been a disaster" for the U.S., and that "Congress will have a choice of the USMCA or pre-NAFTA, which worked very well."

On Friday, Trump, along with the leaders of Canada and Mexico, held a signing ceremony for the new agreement, which Canada's Prime Minister Justin Trudeau notably referred to as the "new North American Free Trade Agreement." According to The New York Times, Trump's staff had spent 48 hours before the signing trying to convince Trudeau to attend.

G/O Media may get a commission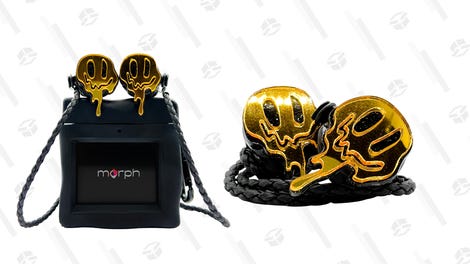 morph audio
Morph Earphones
When Trump, Trudeau, and Mexico's Enrique Peña Nieto signed the three documents, Trump asked, "Which is the one that matters?" "Each of us gets a copy," Trudeau responded. Then, the Canadian prime minister refused to hold up his copy of the document for photographers, as Trump likes to do during signing ceremonies. "You might as well hold that up," Trump said to Trudeau, who smiled, clapped, and ignored him.

Watch (the signing starts at 2:40):

Democratic leaders said Trump would have difficulty getting the new agreement approved by Congress in its current form. The Democrats' nominee for House speaker in January, Nancy Pelosi, called the deal "a work in progress," adding that it needed stronger protections for workers and the environment, according to the Times. Sen. Chuck Schumer also said it would need to be changed to gain Democratic support.

Additionally, legal and constitutional uncertainties exist about whether Trump can unilaterally announce a U.S. withdrawal from NAFTA—which would trigger a six-month countdown period—without approval by Congress. As Politico pointed out, a 2016 study by the Congressional Research Service delved into that issue.

According to a summary of that study, "Questions have arisen regarding whether the President can unilaterally withdraw the United States from such agreements without the consent of Congress. The Constitution does not specifically address withdrawal from treaties or congressional-executive agreements." It adds that, "Even in the event that the President could properly withdraw from an FTA unilaterally, the President cannot make laws, and thus repeal of federal statutory provisions implementing U.S. FTA obligations requires congressional action."

Others argue that the 1974 Trade Act gives the president the power to end trade deals, Politico reported.

In other words, unless an agreement is reached on USMCA, the issue could end up in the courts, if Trump follows through on his threat to withdraw from NAFTA, that is.