On Monday, President Donald Trump found yet another of his enterprises in legal jeopardy—this time not for running a sham foundation, or his involvement in payments to adult film stars, but for the simple, extremely plausible crime of being a total dick to his employees.

Noel Cintron, who was Trump's personal driver for 25 years, filed a complaint in the Manhattan Supreme Court alleging the Trump Organization owed him back pay for approximately 3,300 overtime hours accrued over the past six years—the furthest back for which he's allowed to sue, due to statues of limitations. Cintron also claims he was denied payment for work done on holidays and vacations, and that the Trump organization did not provide him his legally mandated annual wage notices. He is asking for upwards of $200,000, but notably is not suing the president himself—just Trump Organization and Trump Tower Commercial LLC.
Cintron has not driven for Trump since the U.S. Secret Service assumed control of the president's transportation duties, although the New York Daily News reported that he "rendered services as a member of the Trump security staff" after that period. According to Bloomberg, which first reported on the lawsuit, Cintron is a registered Republican.
"Donald Trump has proclaimed himself as a champion of working men and women, but nothing could be further from the truth," Cintron's lawyer, Larry Hutcher, told The Hill. "Noel Cintron worked for him days, nights and weekends, but year after year Trump refused to pay him the wages he had earned. A complete disregard for the rights of workers has defined his disgraceful record in business."
Calling his onetime passenger's behavior an "utterly callous display of unwarranted privilege and entitlement and without even a minimal sense of noblesse oblige," Cintron claimed he was forced to work upwards of 55 hours per week for a fixed salary income, and only received two raises over the past 15 years. His most recent raise in 2010 even came with strings attached: he had to forfeit all health benefits he'd been given as part of his work, a move that he claimed saved the Trump Organization nearly $18 thousand in insurance premiums.
G/O Media may get a commission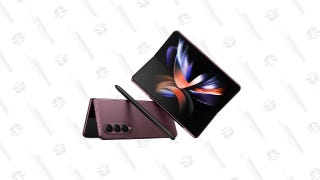 Save Up to $300
Galaxy Z Fold4
"President Trump's further callousness and cupidity is further demonstrated by the fact that while he is purportedly a billionaire, he has not given his personal driver a meaningful raise in over 12 years," Cintron said in his suit.

Cintron's allegations against Tump's business fit a broader and well-documented pattern of behavior by the president, who has repeatedly been accused of screwing over contractors for years.
I have reached out to the Trump Organization for comment and will update this post if I hear back. The Trump Organization has not responded for my request for comment.