Oh, Donald, and your not–so–subtle tells.
The ego of the president of the United States is so insatiable that he often can't help himself and gives away important little details via Twitter, even when he's trying to distract everyone.

Trump's tweets so far over the Thanksgiving holiday have been everything we could've expected. He's turned what's supposed to be a presidential message of thanks into a call for everyone to thank him:
He praised honorable women and men in uniform to distract from his own dishonor:
G/O Media may get a commission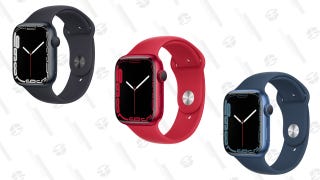 Up To $45 Off
Apple Watch Series 7

He lied again about ObamaCare:

He called Sean Hannity a "great guy":

He attacked NFL players, again:

And he plugged not one, but two, Trump properties in one tweet while bragging about going golfing:

But the two tweets that really stood out were actually about Turkey—the country, not the bird. Trump noted that he would be speaking with Turkish President Recep Tayyip Erdoğan on Friday about "bringing peace to the mess" that he "inherited in the Middle East."

He promised to "get it all done," without actually clarifying what the "it" is that he's going to do, other than golfing (quickly!) with Tiger Woods and making some phone calls.
 

Normally, people might not pay much notice to these types of seemingly banal Trump tweets, but an important story broke on Thursday about the president's former national security adviser, Michael T. Flynn. According to The New York Times, lawyers for Flynn, whose links to both Russia and Turkey have long been exposed by the media, have recently notified Trump's own legal team that they would no longer be communicating with them about special counsel Robert S. Mueller's Russia probe.

Flynn was revealed to be a lobbyist for the Turkish government, for which he was paid more than half a million dollars and asked to explore the possibility of kidnapping a rival of the Turkish president from the United States and sending him to Turkey, where he would undoubtedly be thrown into prison. As the Times points out, Flynn was "secretly paid by the Turkish government during the presidential campaign."

Flynn registered as a foreign agent of Turkey after he was fired as national security adviser for allegedly lying to Vice President Mike Pence about Flynn's contact with former Russian Ambassador and spy Sergey I. Kislyak. The former national security adviser and close Trump confidant also worked for Russian state television and attended a dinner in which he sat next to Vladimir Putin.

This latest news about severed communications between Flynn's and Trump's legal teams means that something is happening with Mueller's investigation. At the least, Flynn's lawyers likely have begun negotiating with the special counsel over a possible plea deal. At the worst for Trump, Flynn has already begun cooperating with Mueller's investigation in an attempt to protect his son, Michael Flynn Jr., who worked as his dad's chief of staff at the Flynn Intel Group lobbying firm.

The response from Trump lawyer Jay Sekulow about this latest development was hilarious. "No one should draw the conclusion that this means anything about General Flynn cooperating against the president," Sekulow said, according to NBC News.

All of this follows the recent indictments of former Trump campaign chairman Paul Manafort and his partner, Rick Gates, on charges of conspiracy, money laundering, failing to register as a foreign agent, and making false statements to investigators, among others. And Trump campaign adviser George Papadopoulos was arrested last July for lying to investigators. Papadopoulos was said to be cooperating with Mueller's team.

Flynn's attorney has not commented publicly on this latest news.