Less than 24 hours after hijacking every major television network in the country to offer absolutely nothing of substance in his first Oval Office address to the nation, President Donald Trump was back at the Resolute desk to flap his gums some more about his all-time favorite subject on Earth: Wall.

And while Tuesday evening's telecast may have been an extraordinarily stuffy waste of everyone's time, Wednesday's Oval Office bill signing offered Trump a chance to loosen up a little, extemporize, and really get into the nitty-gritty of why he thinks Wall is so great.
Because, he insisted, it's an oldie, but a goodie.
It's unclear whether Trump believes undocumented immigrants are entering this country by way of battering ram, or if he will arm CBP agents with cauldrons of scalding hot oil—which, honestly, seems not entirely out of the realm of possibility with this guy.
"Israel put up a wall," Trump continued. "Ninety-nine percent successful, according to [Israeli prime minister] Bibi Netanyahu."
"They put up a wall and they don't have a problem anymore," he added. No problems along Israel's border? None...at all?
G/O Media may get a commission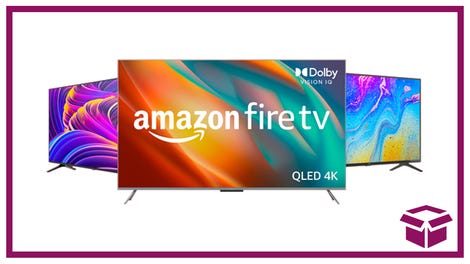 Ooh. stunning.
New Amazon Fire TVs
Not content with providing a horrible analysis of politics in just one area of the world, Trump also said that America needed the wall because Mexican criminals have better cars than American cops. "They have the best vehicles money can buy," he said. "They have the best vehicles. They have stronger, bigger, and faster vehicles than our police have, and that ICE has and that Border Patrol has."
The fact Trump is not asking for $5.7 billion dollars to buy law enforcement a bunch of sweet-ass sports cars leads me to believe that he is convinced that The Fast and The Furious franchise is actually a documentary.
Meanwhile, thousands of furloughed government workers have reportedly applied for unemployment benefits in order to make ends meet. But to hear Trump talk about it, most of these folks are totally into not getting paid. In fact, they love it. Why? Because, as Trump said during an Oval Office bill signing on Wednesday, they're "patriots" who totally support him.
He knows so, he claimed, because he saw it on "social media."
In fact, when asked why he wouldn't sign a discrete bill to ensure employees affected by the shutdown would get paid, Trump got into an extremely petty pissing contest, whining to the questioner at one point that "if you would do that, you should never be in this position, because you'd never get anything done."
Just another normal day in the Oval Office!