As the United States continues to reel from the Las Vegas massacre, which left at least 59 people dead and hundreds more injured, President Donald Trump insisted on Tuesday that, despite presiding over one of the worst mass shootings in modern American history, now just isn't the time to talk about guns. He also called the events "in many ways a miracle" because of the police response.

"Look, we have a tragedy," the president told pool reporters as he boarded Marine One for the first leg of his trip to survey hurricane damage in Puerto Rico. "We're gonna do...and what happened in Las Vegas is, in many ways, a miracle. The police department has done such an incredible job."
"And we'll be talking about gun laws as time goes by," Trump added.
Because if ever there was a time to talk about common sense legislation that both experts and the majority of the public believe could help save lives, it's at some vague, nebulous future date, right?
G/O Media may get a commission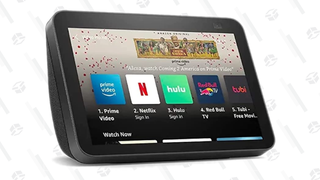 Then, as if marginally aware that ending his comments by presenting even the appearance of being open to the possibility of an indeterminate future discussion about maybe affecting marginal change in gun laws might piss off campaign backers like the NRA, Trump then returned to the reporters and added, "How quickly the police department was able to get in was really, very much of a miracle. They've done an amazing job."