The preemptive con man Twitter–in–chief has stuck his nose into the sports world yet again, this time against Golden State's Steph Curry, a man who actually knows how to win things.
The Golden State Warriors, who beat the Cleveland Cavaliers in just five games to win the NBA title last June—the team's second championship in three years—had promised to discuss as a team this fall a visit to the White House, ESPN reported.

It's customary for the president to extend a courtesy invitation to the White House for championship teams, but many on the Warriors are not fans of Donald Trump, including head coach Steve Kerr and players Kevin Durant and two–time MVP Curry.

The White House and the Warriors have been playing a wait–and–see game for months now, with the NBA acting as a sort of intermediary until the team decides whether or not to visit.

According to ESPN:

The Warriors, who beat the Cleveland Cavaliers in five games to win the title, have not yet been invited to visit the White House, nor has the organization decided whether it would accept an invitation if it were offered, sources said. However, the NBA has stayed in close enough communication with the White House on the matter, and it is believed an invitation would be extended if the team decided as a group to attend.
G/O Media may get a commission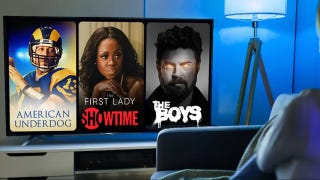 UNDER $1
99¢ Prime Video Channels
On Friday, Curry said bluntly, "I don't want to go." One of the reasons is Trump's response to the recent Charlottesville attack, USA Today reported.

The newspaper said:

"That we don't stand for basically what our President has – the things that he's said and the things that he hasn't said in the right times, that we won't stand for it," Curry said. "And by acting and not going, hopefully that will inspire some change when it comes to what we tolerate in this country and what is accepted and what we turn a blind eye to. It's not just the act of not going there. There are things you have to do on the back end to actually push that message into motion."
But Curry also was clear that it was the team's decision to make.

Nevertheless, the thin–skinned president, being challenged by actual champions, decided to preempt Curry and the Warriors by "withdrawing" an invitation that apparently was never formally issued in the first place. On Saturday morning, just days after his wife Melania spoke at the U.N. against cyberbullying, Trump tweeted, "Going to the White House is considered a great honor for a championship team. Stephen Curry is hesitating, therefore invitation is withdrawn!"
 
Nothing like taking the low road for a good sports metaphor. In the end, though, it's probably fine for just about everyone involved.
Update, 11:55 a.m.: Another winner, even when he loses, LeBron James had the perfect response to Trump's tweet, in which he called the president a "bum" and called him out on his con: