If there's one notable thing about acting Attorney General Matthew Whitaker, it's his deep commitment to a lifelong career of shady grifting. But if there's a second notable thing about Whitaker, it's just how mundane and unimpressive his shtick actually is.

According to an investigation by the Wall Street Journal, Whitaker has spent years claiming that during his time at the University of Iowa in the early 90s, he was "an academic All-American football player"—an honorific awarded annually by the College Sports Information Directors of America for student athletes who maintain at least a 3.3 cumulative GPA, among other requirements.
As it turns out—that's total bullshit.
Whitaker had, in fact, been reportedly named as a district All-American finalist in a 1993 University of Iowa football media guide. But, as a CoSIDA spokesperson told the WSJ:
Being named an Academic All-District is PART of the CoSIDA Academic All-America program, but does not make you an Academic All-America honoree. You must be placed on the national ballot and then voted onto the Academic All-America team to gain that honor.
Speaking with the Journal, a Justice Department spokesperson claimed Whitaker was going by a 1993 University of Iowa media guide, which explicitly described him as a "District VII academic All-American."
This leaves us with two possibilities. One is that Whitaker simply did not understand that he was multiple steps away from actually getting the honor he repeatedly bragged that he'd received. If this is the case, the man currently serving as the nation's top legal official is at best easily confused by multi-tier organizational structure, and at worst, just hopelessly dumb.
G/O Media may get a commission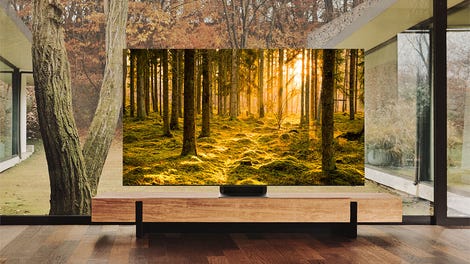 Up to 40% off
Samsung Smart TVs
The second option, and frankly more believable one, is that Whitaker knew the wasn't actually an academic All-American, and lied about it anyway.
According to the Journal, Whitaker had cited this particular bona fide on his biography at a former law firm, in an judgeship application in 2010, and in a 2014 job resumé recently made public as part of Federal Trade Commission cache of documents pertaining to a since-shuttered patent marketing firm.
That's a lot of high profile bragging about what is essentially a 20-year-old embellishment that doesn't really matter at all. Think about it: In 2010 Whitaker was a 41 years old former United States Attorney and he was still padding his CV with decades-old college shit that has absolutely nothing to do with the job he was apparently applying for? Regardless of if he was lying or simply confused, this feels like it's awfully minor ephemera to mention for someone aspiring to be a judge.
Then again, I don't know what I was expecting. Before he was given the keys to the judicial kingdom, Whitaker was just some nobody trying to make a career out of hawking shady hot tubs and toilets for dudes with big dicks.
Maybe it's the idealist in me, but if you're the sort of person who's gonna stumble ass backwards into the Attorney General's office, I'd hope you could be a little less used-car-salesmen and a little more Lex Luthor when it comes to your grift. I'm not mad—I'm just disappointed.