An Argentine businessman working with the Trump Organization on a new development project in Buenos Aires helped to facilitate Argentine President Mauricio Macri's congratulatory phone call to President-elect Trump. The call, just days after Trump won the election, is the first of what could be many potential conflicts of interest for an international real estate developer who's about to become president of the most powerful nation on earth.
Journalists in Argentina reported that Trump used the call to pressure Argentina's president into issuing a building permit for a Trump office tower in Buenos Aires—a charge that Trump and the Argentine government have vigorously denied.
But regardless of what was actually said on the call, the story behind how the call was arranged potentially offers a sneak peek of how personal business interests could tangle with diplomacy during Trump's administration. If the Argentine phone call is any indication of what's to come, the pay-for-play political culture that Trump denounced so strongly during his campaign could be alive and well during his presidency.
According to Argentine daily La Nacion, the now infamous Trump-Macri phone call was brokered by Felipe Yaryura, a local real estate tycoon who is working with the Trump Organization to build a 36-story office tower in Argentina's capital city.
Plans to build the Buenos Aires Trump tower were announced in March, shortly after Macri —a pro-business conservative— became president. But the project has not yet broken ground because Yaryura and the Trump Organization are still waiting for a building permit from the Buenos Aires municipal government.
G/O Media may get a commission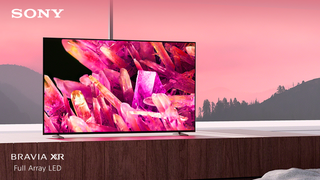 $400 off
Sony 55 Inch 4K Ultra HD TV X90K Series
After Trump's win, Macri, who had publicly backed Hillary Clinton during the campaign, had to scramble to come up with a new plan to maintain good relations with Washington. That's when his administration turned to Yaryura for help, according to La Nacion.
The Argentine businessman had been working with the Trump organization since 2012, when his company, YY Developments, teamed up with the Trump Organization to build a luxury condominium project in Punta del Este, Uruguay. Since then, Yaryura worked closely with Eric Trump. The two men were spotted together on Election Day, when Yaryura joined the Trump family to watch the poll returns in Trump Tower in New York.
According to sources consulted by La Nacion, the Argentine government asked Yaryura to call Eric Trump after the election and facilitate an introduction with Trump's transition team. Eric Trump eventually got on the phone with Argentina's foreign minister and brokered a Nov. 14 phone chat between his dad and President Macri.
La Nacion says the government of Argentina wanted to open a channel of communication with Trump to ensure the continuance of bilateral programs in trade, investment, security, and technology.
But what did Yaryura get in return for setting up the meeting? The answer to that question is still not clear.
Spokespeople for the Trump team and the Argentine presidency insist there was no discussion of a building permit during the initial phone call. In a statement, the Argentine government said that Trump and Macri used much of the phone call to talk about their "old friendship," which dates back to the early '80s, when Macri's family and Trump attempted but failed to build a 150-story building in Manhattan.
As for the Trump project in Argentina, as of press time the Buenos Aires City Council has still not granted a building permit.
Manuel Rueda is a correspondent for Fusion, covering Mexico and South America. He travels from donkey festivals, to salsa clubs to steamy places with cartel activity.