It's been nearly one week since 51-year-old Adam W. Purinton reportedly shouted "get out of my country" before opening fire at an Olathe, KS bar, killing one man of Indian descent and injuring another, as well as a white bystander who attempted to stop the shooting.
In that time, President Donald Trump has snarked about the Oscars, complained about the New York Times, and invented a brand new conspiracy theory about President Obama. What the supposedly "law and order" president hasn't done, however, is mention the Kansas attack. At all.
And now he's being increasingly called out for his conspicuous silence.
"At some point, embarrassingly late begins to verge on something more disquieting," the editorial board of the Kansas City Star, one of Missouri's largest daily newspapers, wrote in an op-ed published Monday. "President Donald Trump has silently planted himself in that space."
The Star, which last year endorsed Hillary Clinton during the 2016 election, noted Trump's unique obligations following tragedies such as the racially motivated attack in Olathe.

Surely the White House team could have cobbled together a statement of some sort, a response to at least address growing fears that the U.S. is unwelcoming of immigrants, or worse, that the foreign-born need to fear for their lives here. The deadly incident in Olathe has resonated across the country and even around the globe.

During such moments of crisis, people look to the president for strength and guidance.
G/O Media may get a commission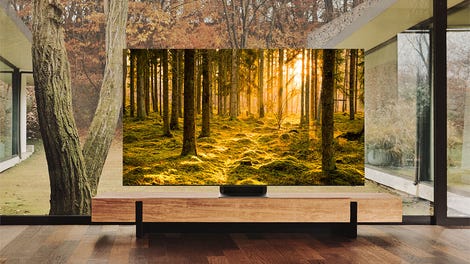 Up to 40% off
Samsung Smart TVs
Trump's xenophobic rhetoric has already been linked to the Olathe attack by Madasani Jaganmohan Reddy, whose son Alok was injured during the shooting.
"The situation seems to be pretty bad after Trump took over as the U.S. president," Reddy told the Hindustan Times. "I appeal to all the parents in India not to send their children to the US in the present circumstances."
Press Secretary Sean Spicer did deem the attack "tragic," but he also refused to connect the shooting to Trump's divisive statements concerning immigrants.
Trump's lack of a response to the Olathe shooting in some ways parallels his extended silence following waves of anti-Semitic attacks that began shortly before he was sworn into office, which have continued unabated throughout his presidency. Only after weeks of intense pressure from critics did Trump finally condemn the attacks as "horrible" and "painful."
Similarly, while the president did reportedly call Canadian Prime Minister Justin Trudeau to offer his personal condolences over a shooting at a Quebec mosque that left six dead at the hands of an alleged Trump supporter, he conspicuously avoided making any sort of public statement condemning the murders. He did, however, tweet an immediate response to an attack in Paris by an alleged Muslim extremist.
Ahead of the president's address to a joint session of congress, the Star editorial board urged Trump to use the opportunity to condemn the Olathe attack once and for all.
"With each passing day," the Star concluded, "Trump's silence is even more telling."