Republican senators are turning on Attorney General Jeff Sessions thanks to a personal lobbying campaign by President Trump, Politico reported on Wednesday night. According to one GOP aide, Trump has whined about Sessions over the last ten days to "any senator who will listen." It's understandable that at this point they'd be willing to do anything to shut him up.

From Politico:

Trump raised the prospect of firing Sessions last week in a phone conversation with Graham, according to two Capitol Hill aides, who said that [Lindsey] Graham pressed the president to hold off until after the midterm elections. The president has also complained loudly about Sessions to several Republican senators, according to a GOP chief staff.
Senate Republicans have previously warned Trump not to dump Sessions, but Politico reported that some senators' views of Sessions have shifted recently. Chuck Grassley and Lindsey Graham, the site wrote, are particularly frustrated with his opposition to their criminal justice reform bill, perhaps inclining them towards considering Trump's calls to oust him.
Graham has even seemed to suggest publicly that Sessions' time may be up. He went on CBS this week to talk about the tension between the attorney general and the president. "The bottom line is this relationship is not working. It's not good for the Department of Justice," Graham said.
G/O Media may get a commission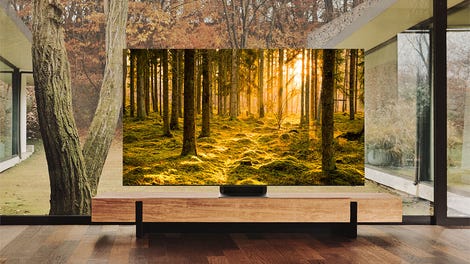 Up to 40% off
Samsung Smart TVs
Trump's antagonism towards Sessions has also affected the attorney general's relationship with evangelicals who formerly adored his hard-right approach to governance. Jerry Falwell Jr., for instance, recently said that he urged Trump to fire Sessions.
Trump's problems with Sessions began in March 2017, when the attorney general recused himself from overseeing any investigation into Russian interference into the 2016 election. That led his deputy, Rod Rosenstein, to appoint Special Counsel Robert Mueller, whose investigation has dogged Trump ever since. Trump has never forgiven Sessions for inadvertently allowing that chain of events to unfold.
But Sessions' refusal to step into the investigation is hardly the only thing that Trump finds infuriating about him. According to Politico, Trump "[gripes] to aides and lawmakers that the attorney general doesn't have the Ivy League pedigree the president prefers, that he can't stand his Southern accent and that Sessions isn't a capable defender of the president on television—in part because he 'talks like he has marbles in his mouth.'"
So far, Trump's shittalking campaign seems not to have reached Senate Majority Leader Mitch McConnell, who told the press on Tuesday that he still supports Sessions. "I have total confidence in the attorney general; I think he ought to stay exactly where he is," he said.