Secretary of Homeland Security John Kelly nearly stormed out of a meeting on Monday with Arab community leaders in Michigan after they asked him tough questions about Donald Trump's revamped Muslim ban.
As the Detroit Free Press reported, Kelly stood up and was prepared to leave a meeting after a tense exchange with at the Arab American National Museum in Dearborn, a city where more than 40% of the residents are of Arab descent.
Nabih Ayad, the founding attorney of the Arab American Civil Rights League, told the paper he pressed Kelly about racial profiling of Arabs and Muslims at the U.S. border as a result of Trump's executive order temporarily barring immigration from six majority Muslim countries in the Middle East.
"He stood up and walked away almost," Ayad said. "He said, I'm leaving unless you decide to stop your questions and have someone else ask a question…He actually got out his seat."
Two other community activists present at the meeting also confirmed Ayad's account to the Free Press.
G/O Media may get a commission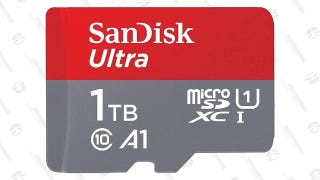 Save $75
SanDisk Ultra 1TB MicroSDXC Card
In a statement after the meeting, a DHS spokesman confirmed a heated exchange happened, but pinned the blame on Ayad's line of questioning.
"One participant in a meeting with leaders of the Arab American community incessantly pressed the Secretary, incorrectly alleging that DHS officials engage in targeting and racial profiling of Arabs and religious profiling of Muslims," spokesman David Lapan said in a statement to the Detroit newspaper. He also said Kelly "made his frustration known" when "the participant insisted on stalling the meeting and repeating the same erroneous allegations."
At a press conference later, Kelly said the country is "almost at a crisis right now because you've got 11 million people in America who are below the radar."
"Most of them aren't bad people, some of them are. We're after the worst of the worst. But I can't ignore the law. I'm told repeatedly to ignore laws by public officials and I can't do it," he said.