There's always a lot of talk about how we should portray the people who carry out school shootings. Many have pointed out in the past that white shooters tend to be humanized compared to perpetrators and even victims who are people of color. Creating a conversation that includes issues like mental health while not using it as a crutch to ignore the deeper issue of gun control is also a delicate balance that is rarely struck well. It's all complicated.
Then there's President Donald Trump. It should come as no surprise that, in a meeting with the survivors and families of the victims of the Santa Fe High School shooting, he did not exactly talk about the incident in a thoughtful way. Instead, according to one mother who was there, he repeatedly described the gunman as "wacky." Could there be a better way to turn a supposedly solemn occasion into a nightmare than that?
Rhonda Hart, mother of victim Kimberly Vaughn, attended the meeting and pushed back on what Trump was saying. People reports:
"He kept calling him [the shooter] this wacky kid who was wearing a wacky trench coat," says Hart, whose 14-year-old daughter, Kimberly Vaughan, was fatally shot along with nine others in the May 18 attack in Galveston County.
Describing the suspect as "wacky" to the parents of the children he murdered and the people who were lucky enough to survive the shooting is obviously disrespectful, but that is par for the course for Trump.
"Wacky" is a refusal to take school shootings seriously. It's also a refusal to take mental health—the thing all pro-gun people seize upon as a beloved diversion—seriously. It turns a deeply traumatic event into a joke. And yet the president repeated it.
G/O Media may get a commission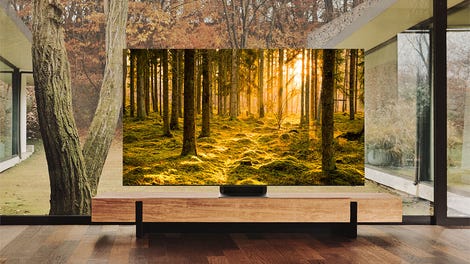 Up to 40% off
Samsung Smart TVs
For her part, Hart directly addressed the language Trump was using to explain that her own daughter was being treated for "Asperger's syndrome and attention-deficit/hyperactivity disorder":
"I said, '[The shooter] might have been depressed, but he wasn't wacky.' But if that kid needed help, he needed to have proper access to it," Hart says, "meaning you shouldn't repeal the Affordable Care Act [one of Trump's cardinal promises] and get them the help they need and take away the stigma of mental illness."

She says she told Trump, "Mental illness needs to be addressed."
Mental health should absolutely be addressed but, just to be clear, the assumption that a person with a mental illness will automatically become violent is a myth. Back in February, he New York Times reported that "In an analysis of 235 mass killings, many of which were carried out with firearms, 22 percent of the perpetrators could be considered mentally ill." In other words, the vast majority of people pulling the trigger in mass shootings are not mentally ill.
And how did Trump deal with this?
"I said all that and he didn't say anything," she says. "He was just like, 'Uhhhh …'"
Hart was even harsher in an interview with the Associated Press. "It was like talking to a toddler," she said.
Now that sounds about right. I have reached out to the White House for comment and will update if I hear back.