Two big stories dropped about CIA director, Secretary of State designate, and virulent homophobe Mike Pompeo on Tuesday. Taken together, they highlight a key fact of the Trump presidency: the old man is winging it.

First, the Washington Post reported Pompeo met with Kim Jong Un over Easter weekend:
The extraordinary meeting between one of Trump's most trusted emissaries and the authoritarian head of a rogue state was part of an effort to lay the groundwork for direct talks between Trump and Kim about North Korea's nuclear weapons program, according to the two people, who spoke on the condition of anonymity because of the highly classified nature of the talks.

The clandestine mission, which has not previously been reported, came soon after Pompeo was nominated to be secretary of state.

[...]
Pompeo has taken the lead on the administration's negotiations with Pyongyang. His meeting with Kim marks the highest-level contact between the two countries since 2000, when then-Secretary of State Madeleine Albright met with Kim Jong Il, the current leader's late father, to discuss strategic issues. Then-Director of National Intelligence James R. Clapper Jr. visited the country in 2014 to secure the release of two American captives and met with a lower-level intelligence official.
Trump alluded to the meeting earlier today, saying that the US has had "extremely high level talks" with North Korea during a meeting in Florida with Japanese prime minister Shinzo Abe. The CIA, White House, and North Korea all declined comment, the Post reports.
Aside from the fact that "authoritarian head of a rogue state" is a weird way to characterize the other side in negotiations which include the Trump administration, this seems like a big deal! It's bad enough to send the sitting CIA director, who just last week said he could "imagine" a ground invasion of North Korea, to handle talks with North Korea's head of state; to boot, Pompeo is apparently just doing his thing as if he's already been confirmed as the nation's top diplomat.
G/O Media may get a commission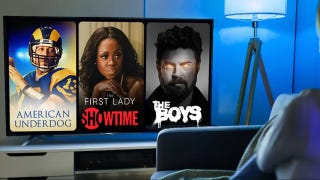 UNDER $1
99¢ Prime Video Channels
And speaking of Pompeo's confirmation, it's not even close to a sure thing. On Tuesday, Democratic Sen. Jeanne Shaheen of New Hamsphire, one of two Democrats (along with Tim Kaine) on the Senate Foreign Relations Committee who voted to confirm Pompeo as CIA director, announced that she was opposing his confirmation as Secretary of State:
"After careful consideration, I cannot support Director Mike Pompeo's nomination to serve as Secretary of State," said Shaheen. "I appreciate his willingness to serve and his dedication as Director of the CIA, as well as the commitments I received during his confirmation hearing regarding the office of Global Women's Issues, human rights and refugee resettlement. However, his previous roles are fundamentally different from that of Secretary of State, who represents American values around the world. The Secretary of State is a policy-making position and I continue to have deep concerns regarding Mr. Pompeo's past statements and policy views, particularly in regards to the LGBTQ community, American Muslims and women's reproductive rights. For these reasons, I have concluded that I cannot support Director Pompeo to lead the State Department at this critical time."

Shaheen sits on the Senate Committee on Foreign Relations, which will consider Pompeo's confirmation before it goes before the full Senate. Republicans hold a majority of just one seat on the panel, and Sen. Rand Paul of Kentucky has already said he's opposing Pompeo, as has Kaine. That would mean Pompeo needs to change the mind of one more Democratwho didn't think he was worthy of leading the CIA in order to get the approval of the committee for a more important job. (Arizona Republican Jeff Flake also said on Tuesday that he's undecided on Pompeo, but Jeff Flake says a lot of things.)

According to CNN, Republicans plan to bring Pompeo's nomination to the floor regardless of what the committee thinks—but but but the process!!!—which would be the first time that's been done for a secretary of state nominee since 1925. CNN also reports that the Republicans are "courting moderate Democrats up for re-election this year" to get Pompeo confirmed, which might be necessary considering Paul's opposition and John McCain's health. Knowing the Democrats, that's not out of the question.
Still: this is just one of those examples of something which would justifiably be considered a major fuck up if it were any other presidency but this one. For this administration, however, it's par for the course.