Donald Trump's "Commission on Election Integrity"—which many see as a thinly-veiled excuse for mass voter suppression—suffered another ignominious setback on Monday, after nearly every state in the country rejected some or all of the commission's demands.

In a letter to the nations' secretaries of state, commission official Andrew Kossack asked states temporarily refrain from sending it various forms of previously requested election data, including:
Full first and last names of all registrants

Middle names or initials if available,

Addresses

Dates of birth

Political party (if recorded in your state)

Last four digits of Social Security number if available,

Voter history from 2006 onward

The surprise request comes as a result of a lawsuit filed by the Electronic Privacy Information Center, which has asked a federal judge for a temporary restraining order on the entire commission's work. In his letter, obtained by The Huffington Post, Kossack writes:
"Until the Judge rules on the [Temporary Restraining Order], we request that you hold on submitting any data. We will follow up with you with further instructions once the Judge issues her ruling."
In fact, according to the Huffington Post, only Arkansas had sent over the requested data as of last week.
Kossack's letter is just the latest in a series of setbacks for the commission. But that's not to say it has had no impact. In some cases—whether by accident or design—it appears to be causing real fear among voters around the country.
G/O Media may get a commission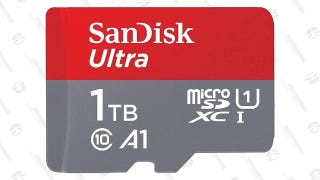 Save $70
SanDisk Ultra 1TB MicroSDXC Card
In Colorado, nearly 270 people have contacted Boulder's election division election division asking to be removed from voter registration rolls, while another 70 people asked for their voter status to become confidential—all since July 3.
It's a process that's also played out in North Carolina, where one concerned voter claimed that the Trump commission "smells funny," before asking officials to "kindly remove my name from NC voter rolls immediately." And in Florida, Seminole County Supervisor of Elections Michael Ertel reportedly had to convince more than a dozen people to remain registered.
All told, it's likely impossible to gauge exactly how many people have been directly disenfranchised by Trump's voting investigation. Nevertheless, the commission's chilling effect seems clear.
It remains to be seen how the court will rule on the Electronic Privacy Information Center's lawsuit. On Monday, the ACLU also filed a separate suit against the commission, arguing it operated in secret in violation of the Federal Advisory Committee Act.