A report in the conservative Washington Examiner published Wednesday details problems with sexual harassment and assault allegations at Turning Point USA, the deeply troubled and completely ridiculous organization headed by Charlie Kirk.
TPUSA hosts and sponsors conferences, all funded by wealthy Republican mega-donors, for its student members. According to the Examiner, at TPUSA's 2017 Student Action Summit in West Palm Beach, a student told a TPUSA staffer that she woke up that night to a male student "groping her and shoving his hands down her pants." When she reported the incident, TPUSA's response was shockingly inadequate, according to the paper:
They also weren't equipped to deal with the distraught student whom one staffer says reported sexual assault last December. "I told her if she thought she was truly assaulted she needed to call the cops and, if she was raped, she needed to go to the hospital," the staffer remembers. They didn't even think to record the girls name because "when she came up it was so hectic that no one knew what to do."
"If she thought she was truly assaulted." Always good to immediately undermine victims when they tell you what happened to them.
Asked about that incident by the Examiner, TPUSA would not confirm or deny that an assault was reported at the 2017 event in West Palm Beach, citing privacy concerns and saying that "without names there is no way to verify additional specifics of the specific instance."
G/O Media may get a commission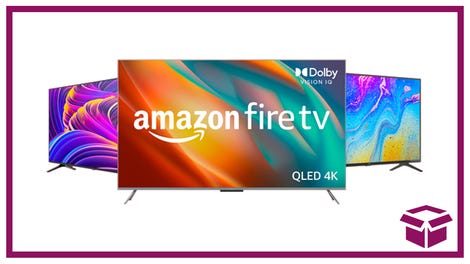 Ooh. stunning.
New Amazon Fire TVs
"While TPUSA acknowledges there have been an exceptionally small number of allegations of misconduct made," the organization said in a statement to the paper, "TPUSA refrains from specifying any more details about timing or location in order to protect the privacy of its members and attendees."
Attendees at the student summit were also reportedly drinking copiously, to the point where one staffer said she was afraid "kids were going to die in the pool":
Witnesses describe a scene reminiscent of "Animal House." Kids weren't just drinking in their hotel rooms. They say some wandered drunk through the lobby. Students weren't just roughhousing by the hotel pool. They say some were wasted in the water. And while many of the young conservatives proved a temperate bunch, the vomit in the bushes served as visceral testament to the appetites of the rest.
Other incidents reportedly happened at another conference where some students' attendance was sponsored by TPUSA, including paying for their hotel rooms:

One said the perpetrator tried unsuccessfully to push her into a closet. A second said the perpetrator shoved her against the wall of an elevator and "stuck his tongue down my throat." A third said the perpetrator "pinned" her onto a hotel bed. Alcohol was a factor in each incident and the last came at the end of a particularly wild hotel room party.

"He was pressuring me to do stuff with him and 'I kept saying no, I want to leave,'" the woman remembers, explaining that it was hard for her to escape because "he was really drunk and he was laying on top of me." The episode allegedly ended when another student discovered him atop her.
The perpetrator in question was reached by Washington Examiner, which reported TPUSA took no action:

If any disciplinary action was taken by TPUSA, the alleged perpetrator in this case was unaware. He confirmed during an interview that he pursued a sexual relationship with different women at the conference and then, unprompted, produced a photo of one of the alleged victims. He denied "doing anything illegal," didn't remember being blacklisted, and even expressed interest in attending another Turning Point conference.
According to the former staffers interviewed by the paper, the organization had little to no structure in place to deal with such incidents:
New TPUSA hires must sign a statement that they received an employee manual and a handbook. But four former TPUSA staffers all said separately that they weren't aware of any organization-wide protocol for handling incidents of sexual misconduct. Several said they even asked the organization's leadership to develop more complete guidelines.

"We were pushing and we were like, 'We need to have a policy in place for, god forbid, whatever happens,' and Tyler Bowyer was basically like, 'No that's going to have to be something that we hit when we get there,'" one claims. "He kept saying he'd have the legal team work on it. But we won't be able do anything until something happens.' That was basically a huge red flag."
Two days ago, Kirk told Red Alert Politics that TPUSA has "kicked men out of events for promiscuous and nefarious behavior when it is presented to us from female students." Again, it might not be all that surprising that an organization whose leader can't distinguish between being promiscuous and being a rapist isn't good at dealing with allegations of sexual assault.
As a fitting coda to that reporting, here's what TPUSA's communications director, Candace Owens, tweeted one week ago:
Women of TPUSA: Run, now.