Don't expect a return to the Havana nights of "Guys and Dolls" just yet, but getting to Cuba will soon get easier.
The historic shift in U.S.-Cuba relations announced by President Barack Obama on Wednesday will pave the way for more travel to the Caribbean island country from the United States. And it's certainly appealing: a lot of people on social media celebrated the occasion by tweeting beautiful and nostalgic photos of Cuba.
Of course, it's still not as simple logging on to Orbitz. Right now, prospective U.S. travelers to Cuba must apply for a license to go to the island — something that won't change. But the White House said the U.S. government would facilitate an "expansion of travel" under general licenses available under 12 categories authorized by law passed by Congress.
G/O Media may get a commission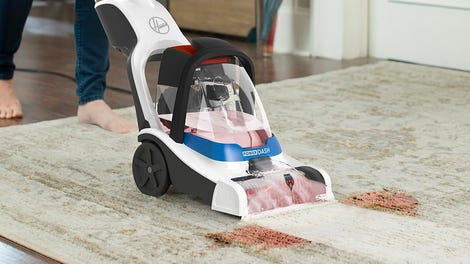 26% Off
Hoover PowerDash Pet Compact Carpet Cleaner
The 12 categories are as follows, according to a White House fact sheet:

1) Family visits;
(2) Official business of the U.S. government, foreign governments, and certain intergovernmental organizations;
(3) Journalistic activity;
(4) Professional research and professional meetings;
(5) Educational activities;
(6) Religious activities;
(7) Public performances, clinics, workshops, athletic and other competitions, and exhibitions;
(8) Support for the Cuban people;
(9) Humanitarian projects;
(10) Activities of private foundations or research or educational institutes;
(11) Exportation, importation, or transmission of information or information materials;
(12) Certain export transactions that may be considered for authorization under existing regulations and guidelines.
The U.S. Treasury Department said anyone applying who fits those 12 categories of travel to Cuba can make travel arrangements through any company or service provider that complies with U.S. law.
Here's an old postcard from my wife's family's beach hotel in Cuba, before the revolution. pic.twitter.com/YoJaSWDIMV

— Chris Moody (@moody) December 17, 2014
The most immediate change for Americans who travel to Cuba will be the ability to use credit and debit cards, as well as being allowed to bring back goods from the country. Visitors to the nation can now purchase up to $400 of general goods while in Cuba, including up to $100 of alcohol and tobacco products.
That means, yes, Americans will be able to legally bring back Cuban cigars, though they won't be able to sell them.
Senior Obama administration officials told reporters on a conference call Wednesday morning that travel to Cuba for tourist purposes will remain prohibited until Congress lifts the ban.
"The ban has to be lifted by Congress," one senior official said. "But the President is doing everything that he can with his authority to facilitate travel within the limitations of the law, and we believe that that will lead to a significant increase in travel."
But some cruise and airline companies were already lining up the possibilities for what they saw as an inevitable last domino to fall.
"We look forward to the day — hopefully soon — when all Americans have the opportunity to travel to Cuba," Barney Harford, the CEO of the all-purpose travel-booking site Orbitz, said in a statement. "There are numerous economic, social and cultural benefits that will flow from free and open access and our customers are eager to visit Cuba."
American Airlines and JetBlue, among others, run limited charter flights from the U.S. mainland to Cuba. Cruise lines like Carnival Corp. also took notice at the announcement on Wednesday.
"Cuba is the largest country in the Caribbean, and it presents numerous opportunities from a cruise industry perspective," Carnival spokesman Roger Frizzell told Fusion in a statement. "Some infrastructure for cruising already exists in the country, along with several ports, so it offers great potential, but there are other issues that will need to be taken into consideration if this market opens up."
Brett LoGiurato is the senior national political correspondent at Fusion, where he covers all things 2016. He'll give you everything you need to know about politics, with a healthy side of puns.