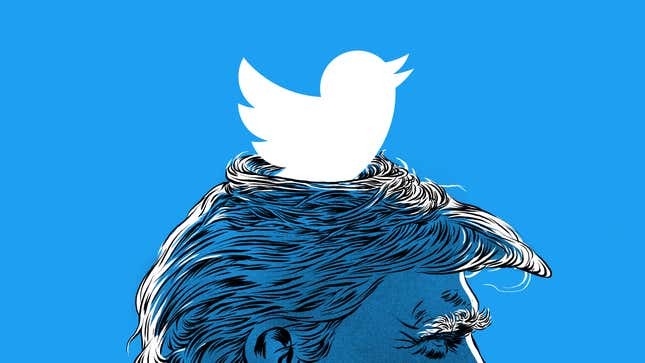 This morning, Splinter published the personal cell phone number of White House adviser Stephen Miller, an official so monstrous as to reportedly find humor in the disturbing images of child immigrants separated from their undocumented parents.

Now, Twitter users who have either shared the post or posted Miller's phone number have had their accounts temporarily suspended, with Twitter citing a violation of the site's rules against publishing personal information. It's safe to assume a shit-stirring campaign by all manner of internet assholes and tattletales was also effective:
It started with Splinter's own account:

But soon, other Splinter staffers and members of the Gizmodo Media Group family who'd tweeted the link found themselves locked out:

And then still other users who dared share the story:

Then, writer Hannah Gais told Splinter she received notification that her account was suspended, not because of a screenshot of her texting Miller's number but, oddly enough, for drawing attention to Gizmodo writer Tom McKay's suspension:
Meanwhile, Twitter remains a place where users are regularly subjected to harassment based on their sexuality, religion, race, or having a wrong opinion that day. For the moment, it seems Jack Dorsey is much more interested in placating conservative users, who've long claimed the platform is biased against them.

It's also telling what Twitter allows to stay up on the site, unchecked. A quick sampling of hateful tweets currently live on the site, apparently without breaking rules:
It's also worth noting, yet again, that we currently live under an administration led by a man best known for using his Twitter as a cudgel and for making veiled threats of retribution.
This is also the same man who published Univision anchor Jorge Ramos' personal phone number on his Instagram account (Univision is Splinter's parent company) and gave out South Carolina Senator Lindsey Graham's cell at a 2015 campaign rally.
Just how will Twitter continue enforcing this apparent violation of their absolutely iron-clad rules? I simply can't imagine and would never urge you, a rule-following person, to break any such rules.
We've reached out to Twitter for comment and will update this post as soon as it's made available to us.
Update, 4:43 pm: When asked about the suspensions by BuzzFeed, Twitter provided a boilerplate response: "We are aware of this and are taking appropriate action on content that violates our Terms of Service."