The city of Polson, Montana, is asking itself some tough questions after a pair of teenagers were photographed in t-shirts with racist slogans during a pep rally ahead of the local high school's homecoming game.
According to local news outlet KPAX, at least two members of Polson High School's junior class have been suspended, after donning handmade "white pride" and "white power" shirts to a homecoming week "color war" assembly. (The school challenged each grade to come to school wearing a different assigned color.)   The shirts also expressed support for Donald Trump, and one featured a confederate flag emblazoned across the front.
G/O Media may get a commission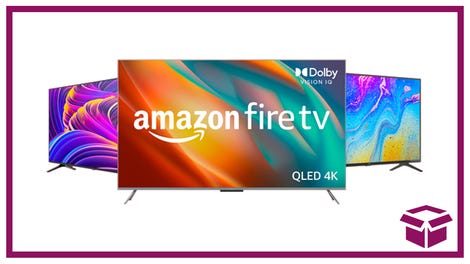 Ooh. stunning.
New Amazon Fire TVs
Photographs from the September 29 pep rally quickly exploded across social media, forcing school officials to respond.
"The Polson School District does not and will not tolerate harassment or discrimination in any form toward any person," Polson District Superintendent Rex Weltz said in a statement to The Washington Post.

As a District we are disappointed in the actions of those few students and will take appropriate action based on our policies and procedures, which may include discipline for the individual students. We applaud the students who stood up against this conduct and will continue to educate all of our students about our policies and practices forbidding discrimination in any form.
Speaking with KPAX, Weltz explained that "as soon as the administration knew of the situation it was addressed and a couple of students were pulled in and spoke to and alleviated the concern."
The students involved in the incident have not been identified, and it's unclear whether they intended to be overtly racist, were simply engaging in teenage transgressive behavior, or some combination thereof.
In a press release, ACLU of Montana Executive Director Caitlin Bormann refrained from ascribing motive to the teens actions. Instead, she explained that what happened at Polson High School "sadly reflects how we are failing our children in teaching them mutual tolerance and respect for those of different backgrounds." In addition to promising an ACLU investigation into the matter, she also urged anyone personally affected by the incident to "protest peacefully" and reach out to Superintendent Weltz with their concerns.
Several dozen people did, in fact, protest Polson's homecoming football game, reportedly chanting "no more hate" outside the stadium during halftime. According to Montana Public Radio, tensions between protesters and game attendees began rising until a white Polson student, identified by MTPR as Michael Vergeront, began to address the crowd, reportedly saying, "I don't think they were in the right, but at the same time I believe this is rooted in ignorance. They may not have understood the ramifications of their actions."
Polson, a community of around 4,500 people, sits on Montana's Flathead Indian Reservation. According to the most recent demographic estimates, Polson's population is 75% white, and nearly 18% Native American.
While Polson may be relatively isolated geographically, what happened there during its pep rally is, sadly, becoming more and more common this election season. In early September, a Dallas, Texas-area high school faced intense criticism after pictures of its Trump-themed assembly made their way onto social media. And last spring, several latinx students at a North Carolina school complained—and were apologized to—after their classmates built a makeshift Trump-themed "wall" as a senior class prank.