To explain the Seahawks DB's postgame takedown of 49ers receiver Michael Crabtree, CNN reported:
"There are two Richard Shermans.
There's the smart Stanford graduate who loves to read.
And there's the brash, trash-talker who considers himself the best NFL player."
The trash-talking was unfortunate; an adrenalized lapse in judgment. But the existence of TWO Richard Shermans—Richard and Brash Richard—is a revelation. With their powers combined, can you imagine what they're capable of? I can.
FORT LEWIS, WA
Ethan, 9: Somebody help! My cat Whiskers is stuck in this tree.
Richard Sherman: Relax, son. Your cat's sneaky, and she's got great physicality, but we'll sick her on the comeback route. Brash Richard?
Brash Richard: [gets on Richard's shoulders]
Ethan: Wow! Thanks, Richard Shermans!
Brash Richard: WHEN YOU LEAVE YOUR CAT IN A SORRY YARD TO CHASE BIRDS IN, THAT'S THE RESULT YOU GONNA GET!
G/O Media may get a commission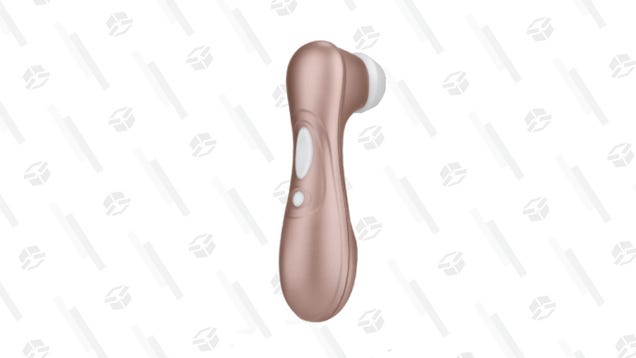 Satisfyer Pro 2
Cat: [runs away]
TRENTON, NJ
Gov. Chris Christie: Richard, Brash Richard, I called this lunch because I need your advice.
Richard: Governor Christie, I watched the tape of your press conference. It was painful. You need to take responsibility for your administration's folly. It will show maturity.
Brash Richard: DON'T YOU OPEN YOUR MOUTH ABOUT THE BRIDGE…OR I'M GONNA SHUT IT FOR YOU REAL QUICK.
Gov. Christie: Gentlemen…welcome to the Christie administration.
GENEVA: Syrian Peace Talks
John Kerry: There is no way Bashar Assad can remain in the Syrian government.
Syrian Foreign Minister: Only the Syrian people may determine who rules Syria.
Richard: I admit this is a very difficult conflict to resolve. I hope Brash Richard didn't—
Brash Richard: HAS ANYONE SEEN CRABTREE? I AM IN A PETTY RIVALRY WITH HIM.
EAST RUTHERFORD, NJ: Super Bowl XLVIII
Erin Andrews: There you have it. The Seattle Seahawks take Super Bowl 48. How does it feel, Richard Sherman?
Richard: I AM VERY PUMPED UP WITH ADRENALINE.
Erin Andrews: Seattle has some of the most loyal fans in the NFL. What role did the 12th Man play tonight?
Richard: THE FANS VALIDATE MY HARD WORK. THE FANS ARE MY EXTENDED FAMILY.
Erin Andrews: My producer is telling me…the fans want to hear from Brash Richard. Brash Richard, what role did the 12th man play here tonight?
Brash Richard: BRASH RICHARD IS THE 12TH MAN.
Andy is a graphics editor and cartoonist at Fusion.