One of the season's most buzzed-about new shows recently featured a coming out story that was truly unique and unlike anything else that had come before it.
That show was not The Real O'Neals, the first two episodes of which premiered Wednesday, March 2, on ABC (Full disclosure: Fusion is partly owned by ABC). It's disappointing how uninspiring the series' coming out of the closet narrative ended up being, considering what a central role gayness played in marketing the program (rainbow halos, etc.). But the handling of a character's coming out is not the cause of The Real O'Neals' problems, but rather an example of the kind of muddled execution that plagues the show throughout.
Like many of ABC's family-oriented single camera sitcoms, such as Black-ish and Fresh Off The Boat, The Real O'Neals uses identity as a jumping off point for its narrative, in this case exploring how a secrecy-fueled Irish Catholic family of five reacts to the revelation that middle child Kenny (Noah Galvin) is gay. His attempts at coming out spur similarly shocking confessions from the rest of his family: Mom Eileen and dad Pat (Martha Plimpton and Jay R. Ferguson) are getting a divorce, older son Jimmy (Matt Shively) developed an eating disorder trying to make weight on his wrestling team, and daughter Shannon (Bebe Wood) has been scamming people out of their money in the name of charity.
G/O Media may get a commission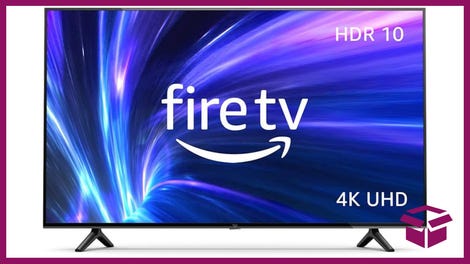 42% Off
Amazon Fire TV 50" 4K Smart TV
But despite the show's purportedly topical mood board of very special episode subject matter (Gay stuff! Divorce! Anorexia!), the whole affair felt really dated. In fact, I can't help but wonder whether The Real O'Neals was originally intended to be set in the past, maybe in the '70s or '80s. That would make sense, seeing as how the series was initially conceived as a fictionalized retelling of executive producer and "Savage Love" columnist Dan Savage's teenage years. Plus, it would explain why present-day Kenny provides narration à la Fred Savage in The Wonder Years.
I imagine that somewhere in development, a couple of ABC execs realized that the network's primetime lineup already boasted two programs that take place in the past, Fresh Off The Boat and The Goldbergs; Fresh Off The Boat even incorporates Wonder Years-style narration into its storytelling, or at least it did prior to real-life inspiration Eddie Huang's departure from the series after season one. It feels like showrunners pushed The Real O'Neals to the present day without giving its world a proper update: The Gen X parents still carry baby boomer values, the kids' detachment from their phones is extremely suspect for a trio of post-Millennials, and the white middle class midwestern idyll where the O'Neals reside feels more akin to Married With Children than Modern Family—even if the Wisteria Lane-ass set only took me back as far as Desperate Housewives.
Perhaps most dated of all is the crux of the show's first episodes: Kenny's coming out. It's not that I don't think coming out as lesbian, gay, or bisexual is an important process that is worth exploring in media, but, like, it's been explored. And explored. And explored. And explored. Nearly 20 years after "The Puppy Episode" of Ellen aired, that story line in and of itself hardly breaks new ground. The days of watching Jack McPhee weep over a pile of XY magazines are over; if you're going to write a coming out narrative, bring something new to the table.
Take Crazy Ex-Girlfriend, for instance. A character on Rachel Bloom's CW vehicle recently came out as bisexual. Well, technically Darryl came out as "both-sexual" first, before eventually settling on the more commonly used self-identifier.
A narrative about a male character coming out as bisexual is noteworthy in and of itself, given the dearth of male bisexual representation on TV. But Crazy Ex-Girlfriend went above and beyond pure representation, pushing the boundaries of what a bisexual male character on TV could be. For Vulture, E. Alex Jung writes:

Darryl's story line on Crazy Ex-Girlfriend is unusual because his sexuality hasn't been a one-off device but a process of discovery. The viewer knows as much about Darryl's sexuality as he does, so when we arrive at the moment when Darryl admits he's attracted to Josh, it's liberating. He finally understands who he is and can articulate what he wants.
Better yet, "the show is not interested in the fact of Darryl's bisexuality but in exploring how one navigates a new identity."
Kenny's story line on The Real O'Neals thus far is largely centered on the fact of the character's gayness: To whom he should reveal that fact and from whom he should withhold it. That device could barely sustain the first two episodes of the series; it definitely won't sustain an entire season, much less seasons beyond that.
Bad at filling out bios seeks same.