Update: WeRateDogs™ responded to a request for comment, and the post has been updated accordingly.
On November 15 a Twitter account called WeRateDogs™ appeared, beginning its eponymous job by judging an Irish Setter:
The creator and operator of the account is a college student named Matt, who runs the account with "a friend from home (I'm away at college) who is helping go through all the DMs." The account's bio reads:

DM your dogs. We will rate. ***NOT ALL DOGS WILL BE RATED I DON'T HAVE THAT KIND OF TIME**
G/O Media may get a commission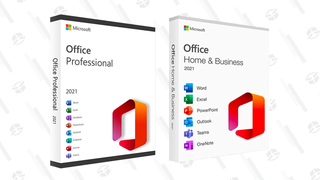 89% off
Microsoft Office Professional 2021 Lifetime License
Matt says he started the account because he's "always tweeted about dogs and my followers [on his personal account] love it." He says the criteria for a good dog, or "even a great dog" are "ever changing," though he adds that "[g]enerally speaking, great dogs do things unnatural to dogs (wearing clothes and such) or are just freakin adorable." He does, however, think that all dogs are good dogs.
Little could the good people of Twitter know that this would signal the beginning of a fierce rivalry.
WeRateDogs™ continued on its merry way over the next few days, passing judgment on various dogs, inventing breeds, and so on.
And, occasionally, non-dogs:
Until yesterday, when a usurper appeared. Early in the morning of November 19 a new account called Dog ratings surfaced, and began an identical task to the one WeRateDogs™ was already performing.
https://twitter.com/dogratings/status/667254259767836673
https://twitter.com/dogratings/status/667255075509682176
WeRateDogs™ was incensed.
Particularly because Dog ratings seems to be plagiarizing the dog images submitted to the older account, in cases that do appear quite blatant:
https://twitter.com/dogratings/status/667256343481356288
https://twitter.com/dogratings/status/667533174298120193
WeRateDogs™ has repeatedly tweeted about Dog ratings in the past day, accusing the account of plagiarism. An account that rates the two dog rating accounts has also appeared, though it's only tweeted three times.
So far, Dog ratings has neither responded to nor acknowledged WeRateDogs™ and the claims the latter has made. Dog ratings hasn't responded to a request for comment. Matt of WeRateDogs™ had the following to say about Dog ratings:

Dogratings is an account run by a powerful network of other parody accounts. They are human garbage as far as I'm concerned. Plagiarism destroys creativity and is making this whole process much less fun. It's truly the evil of social media.
The mind boggles at the possibilities here: are both accounts secretly run by Matt? Are they run by friends who had a falling out? Was there a schism in the dog rating world that led to this? Is this an international dog rating conspiracy? Could there be scores of people involved?
It would be irresponsible to speculate. But hopefully this conflict ends soon, if only for the sake of the dogs.
Ethan Chiel is a reporter for Fusion, writing mostly about the internet and technology. You can (and should) email him at ethan.chiel@fusion.net