Mexico's monarch butterfly population is thriving for the first time in several years, thanks to cross-border efforts to preserve this migratory species.
On Thursday, during a visit to a monarch butterfly reserve in Michoacan state,  Mexican Environment Minister Rafael Paquiano said that the number of butterflies hibernating in Mexico this year is expected to be three to four times bigger than last year.
Paquiano told the AP that some four hectares of cloud forest will be covered by the orange-and-black butterflies this winter. Their annual arrival is one of the main tourist attractions in the state of Michoacan each year.
The population size of monarch butterflies is determined by the extension of forest canopy they occupy when they migrate to Mexico for winter. The species, which spectacularly covers forests and roads in Mexico every winter, migrates each year through Mexico, the United States and Canada.
G/O Media may get a commission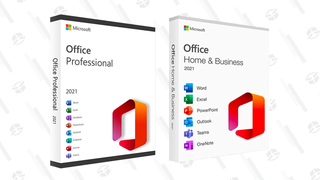 89% off
Microsoft Office Professional 2021 Lifetime License
Paquiano said that the recent increase in the monarch butterfly population is due to joint conservation efforts by all three governments to stop illegal logging in Mexico and control the use of pesticides that kill the butterflies in the United States.
The U.S. government is also backing efforts to reforest 3 million hectares of milkweed along the butterflies' migratory route. Milkweed is the monarch's main source of nutrition.
"There are lots of species that do not recognize our political boundaries," said U.S. Interior Secretary Sally Jewell, who visited the Mexican butterfly reserve this week. "We have to adapt our agricultural practices and revise our use of pesticides" to keep the butterfly population healthy.
Officials in both countries hope to increase the butterfly population to six hectares of Mexican cloud forest — or roughly 225 million butterflies—by the 2020 migratory season.
Manuel Rueda is a correspondent for Fusion, covering Mexico and South America. He travels from donkey festivals, to salsa clubs to steamy places with cartel activity.